07-Dec-2018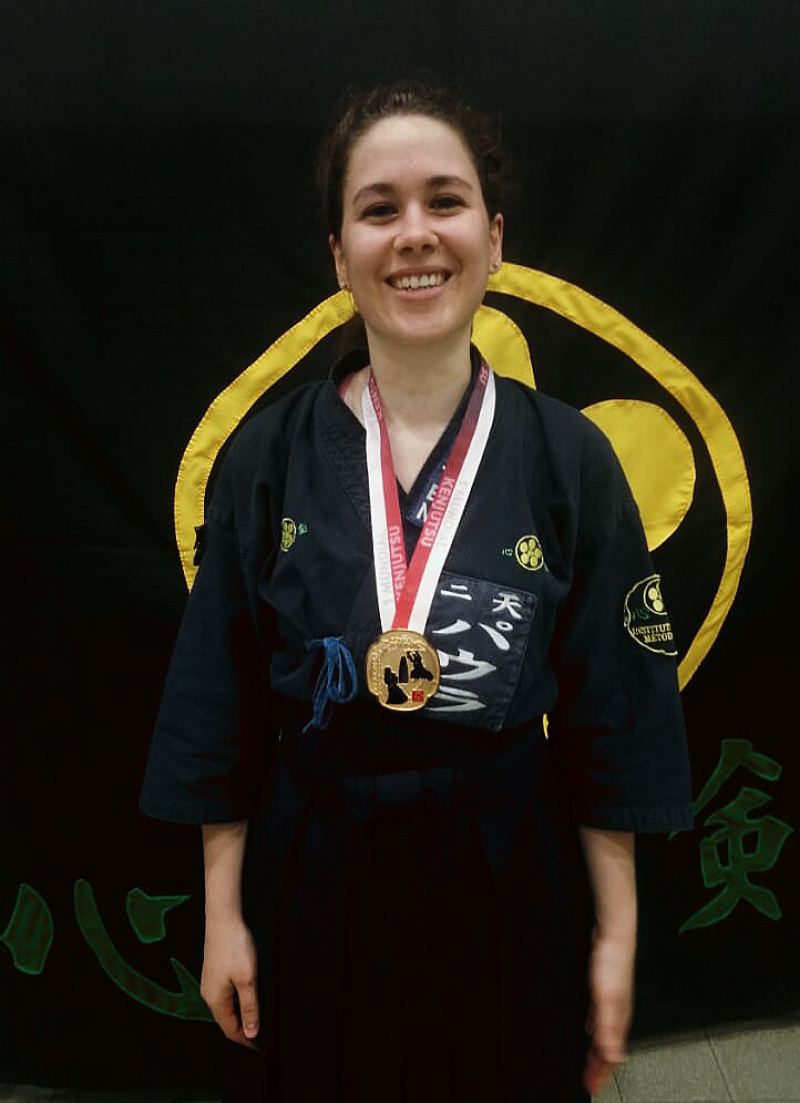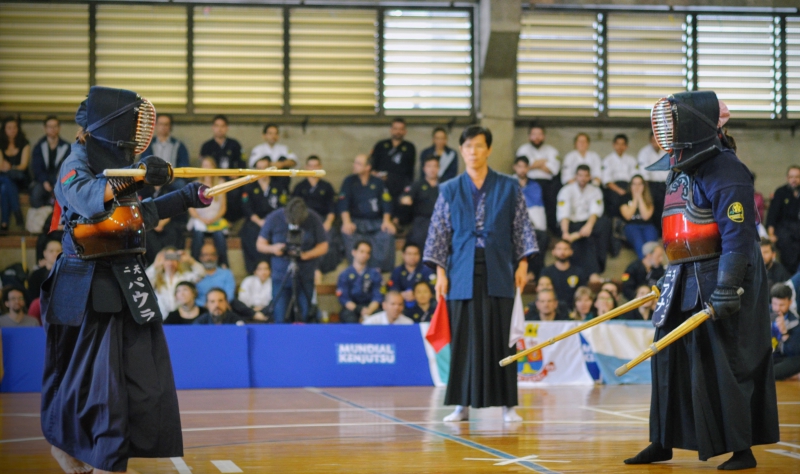 The delegation of Argentina had a great performance in the Kenjutsu World Championship, organized in Sao Paulo by the Kobudo Federation of that country on October 20th and 21st of this year. Four bronze medals were achieved, two of silver and one of gold in the general feminine categories, one of silver in the feminine teams and one of bronze in the masculine team. And, in the maximum female division of the event, both the first and third place were obtained, bringing the two awards to Argentina.

To celebrate this historic moment, we left some words from our World Champion Paula Cintioni:

I see my name on the screen and get ready. I hear the crowd of my teammates. A thousand butterflies were flying in my stomach. I breathe as deep as I can, close my eyes, exhale and focus. I put aside expectations, nerves, there is only the here and now. All that exists is this circle. I put one foot, and I think: "I can!"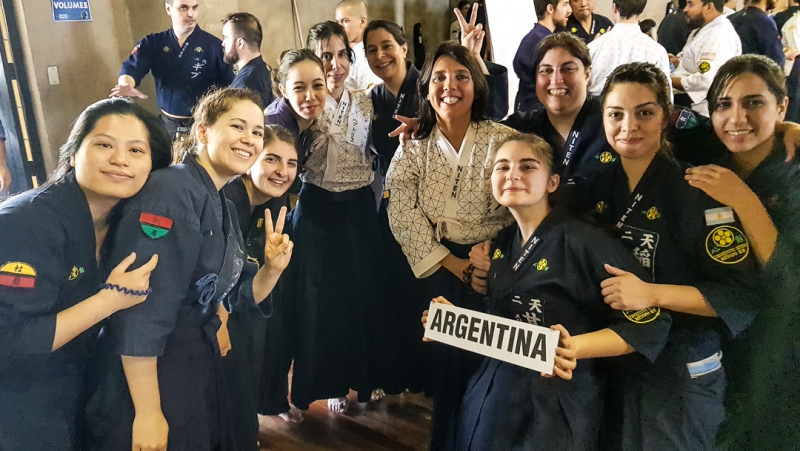 In 2007, when I started training at Niten, if you had told me that I would not only participate in the World Championship but also win, I would not have believed. Today, at age 33 and a one-year-old baby, I feel this came at a very special moment in my life. I arrived at the World Championship with exhaustion that only parents of young children can understand. I have a lot of responsibility at work, I am the director of a software development company and command more than 40 people. Before traveling, I was busy with the logistics of leaving my son a weekend without a mother, coordinating everything to have a day off from work and trying to left nothing unfinished. This situation worsened when our flight was canceled from Buenos Aires: instead of taking off at 2:00 p.m., we ended up leaving at 1 o`clock at another airport ... getting to Sao Paulo was a challenge. I did not have time for any additional preparation for the World Championship, so I went only to participate and without any expectation, just with the joy of being able to watch.

However, when I arrived at the Dojo that morning the air of the event came upon me, seeing hundreds of colleagues from many places: Chile, United States, Colombia, Mexico, Portugal ... people who had come from another continent, the stands filled with family and friends who encourage without rest. I was motivated so much by the size of the event that I suddenly knew that just participating would not be enough. I decided to give it all; I wanted to go home at least fulfilling that goal. I always panic about the competitions, but this time I felt calm, happy and enjoying the process. One of the things Niten helped me to forge was self-confidence, crucial to every aspect of life! It was hard to face my mates, but I knew everyone was going to give their best and it was.

My first thanks go to my husband, without his unconditional support that I could not even have attended. Eternal thanks for him!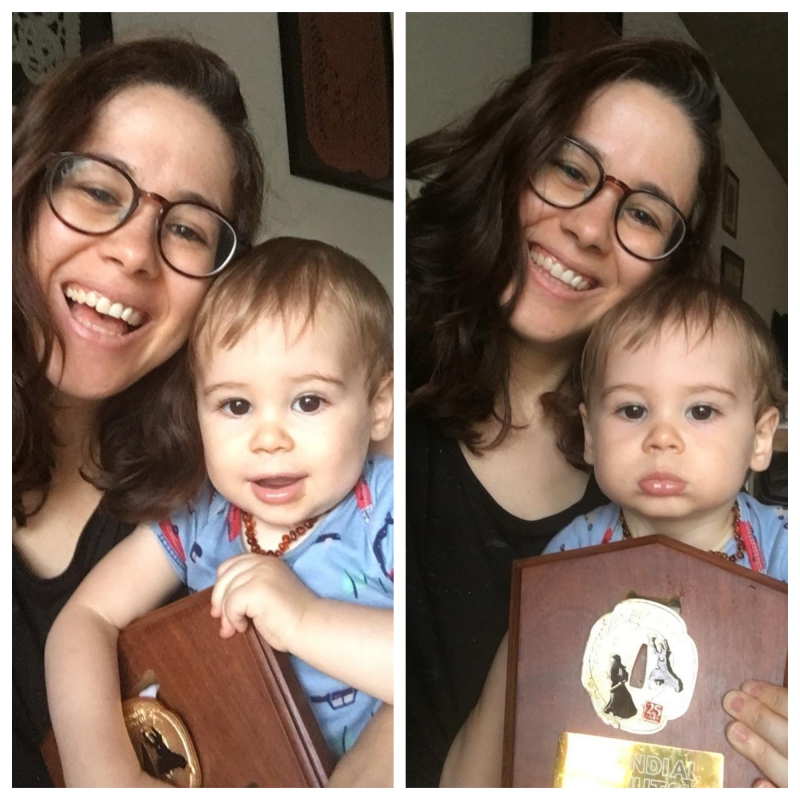 My second thanks go to my colleagues, especially my Senpais from the Vicente Lopez Unit where I started my path in Kenjutsu. Thank you for training me and for believing in me, for your support, for your patience, for giving me so much joy and for fighting fans. I especially liked the staff we rode with the girls, I felt that we connected, I felt part of a family with lots of sisters. I enjoyed the whole event; I am happy to have been able to attend, to meet with colleagues from other units, from other countries I have not seen for years, all there together in a celebration

Last but not least, my deepest gratitude to Sensei and Mika Sensei for letting us be part of their dream. It`s a privilege!

I regretted not having been able to stay to celebrate at the end of the event; many Argentinians literally, had to return home. There will be another opportunity!

What excites me the most is that one day I can tell my son that his mother was the champion of the Kenjutsu World Championship.

Paula
Argentina