Coffee with Sensei
Thoughts and comments by Sensei Jorge Kishkawa


Tag todos Return to last Posts
30-out-2017
"Sensei´s presence motivated me a lot in training, I´d never have trained ou done something with so much commitment and focus. The energy inside the Dojo was explosive!" Paes - Tijuca
When I go, I set "fire" indeed!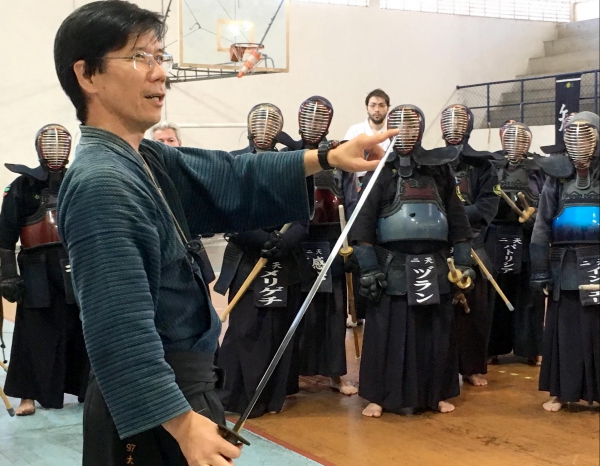 "Arigato gozaimassu Sensei! It is comforting and inspiring to see the care and attention that Sensei give to us." I felt embraced and more than ever like a member of this family called Niten.
Arigato gozaimassu Sensei and until the next meeting." Colonessi - Tijuca
Care and attention won´t be missed for the Kaiseki Ryori"s future chefs
(CS - Oct, 05th. Kenjutsu: Kaiseki Ryori)

"Ohayou Gozaimasu

SHITSUREI SHIMASSU
For the younger ones like me, we receive information from all sides of what GASHUKU represents.
I confess that even being an adult, I went there feeling apprehensive, worried about doing right for the first time because that was the rule in the corporate world that I lived. However, as soon as I got into the dojo, all these worries fell apart. I experienced the understanding and willingness to help everyone, especially the older ones, some of them also new to NITEN, but older than me.

I lived intensely every moment of the day, observing the stance and the spirit of war of the colleagues in the Kenjutsu and instructions all the time. We were all there to learn new techniques and improve those already received. Was it tiring? - Yes, but in the end, I ended up feeling like a winner, even without fighting or presenting the almost nothing that I know in a different way or could deserve some highlight.

We practiced the Katas, I observed the posture of the other Senpais, like Wenzel Coordinator, learning, always learning. But undoubtedly the most exciting moment for me was when I filled my chest with courage and at lunch, I went directly to SENSEI, did the greeting as they taught me and asked if I could approach. I said that I was honored to be there with him, receiving new instructions and corrections given by SENSEI himself, and asked him to autograph the SHINHAGAKURE2 that I was reading. Now, look at this! He came up in my direction and not only autographed my book but also we exchanged two or three words. Senpais, that person has the power to strike you like a lightning, no matter what your belief or religious option, talking with Sensei was like recharging all batteries at the same time and at 220V. I told him that even during the short period away from my wife, she encouraged me all the time saying..."You need to go back, when you return from the training you become different - radiant..." - proving the Good that training can offer, the moments of concentration, the joint activity and the Golden Moments. This is not a championship where people seek plates or medals, but they seek evolution, spiritual growth, but physical as well.

Another wonderful experience was to see him, the SENSEI, going around actively yet serene, among the ranks without the meaning of people helping and guiding everyone in the exercises we practiced, with tranquility and patience.
Thanks for allowing me to be inside of all of this and to let us drink from this source.
Sayounara" Ramalho – Niterói
Shin Hagakure: o livro que todo bom chef precisa ter para preparar o sofisticado Kenjutsu combate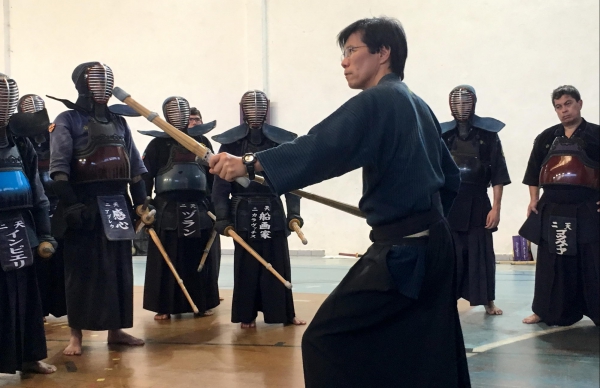 27-out-2017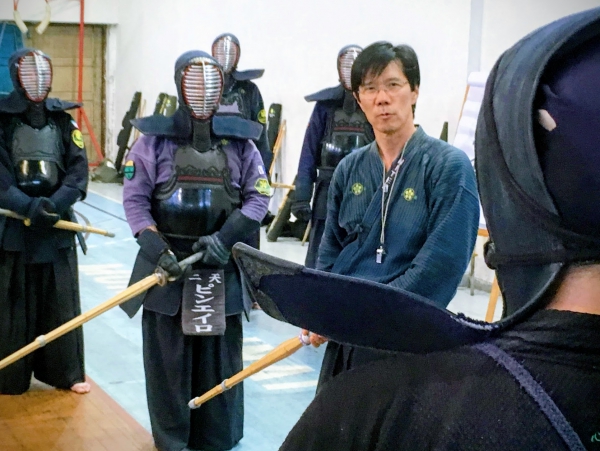 "There´s no better feeling than training above Sensei´s watch, his eyes were trained for so long, which show us pride, determination, and focus. Unstoppable serene eyes that show us kiai around him, eyes that are as a lapidary tool which knows all the way to transform a stone into a sculpture, eyes that will never leave you when you´re following the Budo path.
Sensei arigato" Soares
Nor a pinch more or less is what makes the difference in a dish for excellence.It would be a sacrilege to let pass the cooking.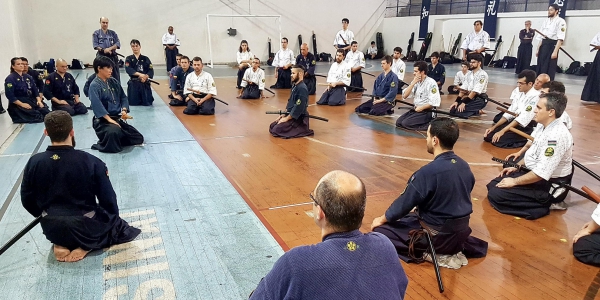 "This was my first Gashuku. When I arrived at Tijuca´s dojo (Rio), I felt an energy that I´d never felt before. So strong, so sincere, that it would be impossible not to notice. Already in the first minutes, I realized that everything I had learned in 3 months of Niten would be tested. I realized that the main purpose wasn´t to dig for the raw material that was inside of me, but rather polish what I already had from the most valuable. Meeting Sensei Kishikawa was such an honor! To have the opportunity of receiving corrections, advice, and smiles both from Sensei and the Senpais from other units was a true gift for my body and soul. Arigatô Gozaimashitá Sensei, Senpais, and everybody from Niten for being in my life. And let the carbon becomes, hopefully, one day, a sparkling diamond! " Portilho - Juiz de Fora
Usually, we feel tested when we go into a tournament and competitions.
Having this feeling in a Gashuku (intensive training) means an engagement with the (Samurai) Path.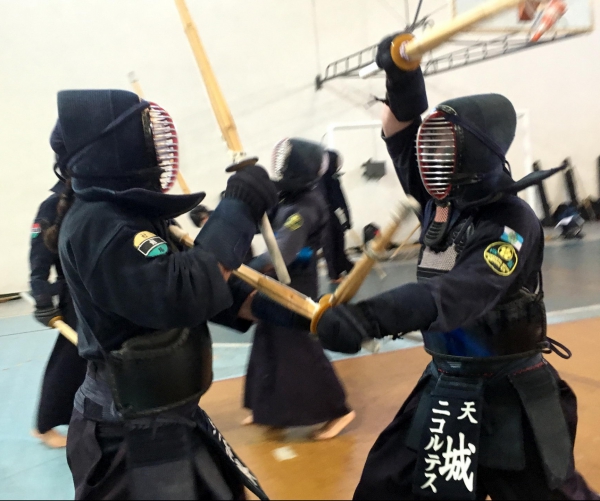 "Konbanwa Sensei! Shitsurei shimassu!
It´s so important the participation in a gashuku so rich in details and spices. The banquet was set on the table, and we could revisit since the basic kamaes even the most complex, the fundamentals of Iaijutsu within katas of various styles.
For the main chef, there are many nuances of smells, textures, colors, and flavors that can turn a regular recipe into a sublime experience. In the gashuku, Sensei presented a range of possibilities, paths, and secrets. It was a wealthy experience and the interaction with colleagues from RJ [Rio de Janeiro] was crowned with a great workout and an amusing get-together.
The refinement of the Combat´s general perception begins with the hearing. Avoid making mistakes that prevent us from moving forward and, also, whenever possible, enjoy the banquet of techniques.
Arigato Gozaimashita! Sayonara!" Ivan - Juiz de Fora
Having a range of possibilities during the application of techniques and positions is nothing more than respect the individuality of the practitioner.Putting him through to apply only one of them is, in a few words, to "Kill the artist" that exists in each of us.Long life to the feast of techniques!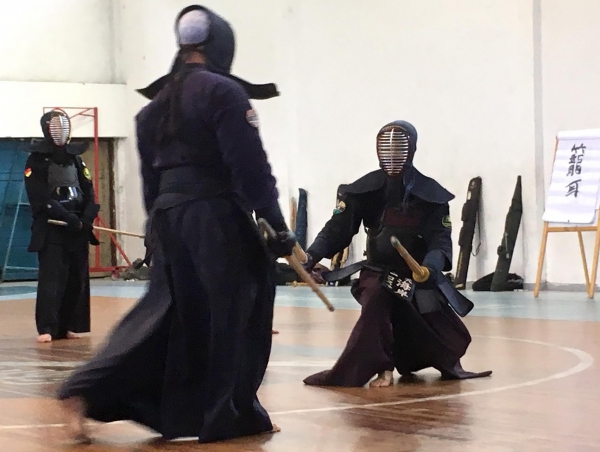 "Konbanwa, Sensei!
Shitsurei shimasu,
During this gashuku, as in all others, the main ingredients were presented in all the dishes of the day: the physical intensity, the will to progress, the watchful eye to details and corrections from Sensei and Senpais, the wisdom and the sparkling diamonds, as well as others no less important ingredients.
However, one ingredient excelled in their flavor notes, included in all the dishes in a special way in this event: the joy!
Since the boarding of the Juiz de Fora´s entourage, passing through the conversations during the trip, the katas, snacks, the companion of colleagues in the gashuku, the weapon preparation, the exchange of ideas, the experience of the patches together, sweating at the same heat of combat, the birudo and the return. All of this, this time, in a tasting of a little more experienced perspective, it was possible to appreciate more clearly this ingredient so expensive, the joy, toward every moment, in every bite, every dish, each footprint on the Path.
Doumo arigatou gozaimashita, Sensei, for providing us this Kaiseki Ryori*.
Sayounara!" Durval - Juiz de Fora
25 years ago, when I founded Niten, I promised myself that I wouldn´t prepare the same recipe "Samurai´s fitness center".
It would be this time, a revolutionary course called "Samurai´s Temple".
Here, the ambition gives rise to Happiness.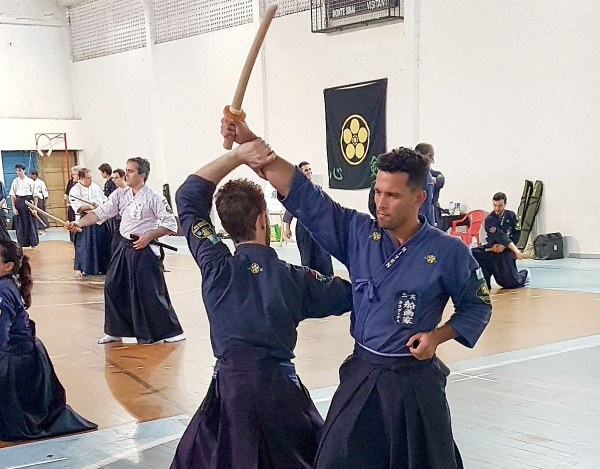 "Domo arigatou gozaimashita Sensei, por vir ao Dojo e nos prestigiar com sua presença. Cada palavra que o Sensei dizia, cada sorriso que o Sensei dava, cada movimento que fazia me energizava, me mantinha mais animado para tentar realizar cada ensinamento. Acho que foi uma das poucas vezes que saí de um treino tão puxado e intenso e ainda assim possuía energias pra continuar, continuar a ajudar a arrumar o dojo por completo, continuar a ir ao birudô com o Sensei, me divertir muito e a continuar ao caminho de casa que nesse dia nem parecia cansativo." Miron - Botafogo
I canceled my trip to Japan due to recent political conflicts in that area (North Korea) and then I chose what I had to do: push on my students from Rio de Janeiro. The words of this student confirm that I made the right decision."To taste" each fight posture (kamae) is to understand the essence of each one of them and of their founder.Eating in a hurry will be a total waste as well as a great harm to health.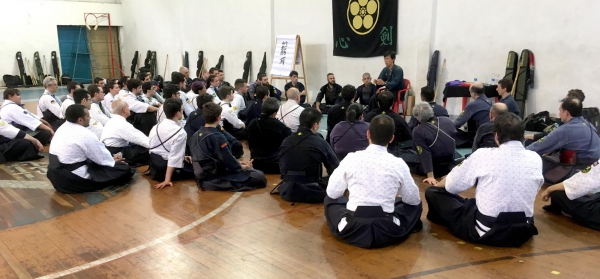 * Kaiseki Ryori =
(Coffee with Sensei de oct-05th. Kenjutsu: Kaiseki Ryori)
25-out-2017
On my last trip to Japan, I´ve met Musashi Sensei once again.
This time, the hurricane Lan almost prevented the reunion, but everything worked out, and I was able to visit the Kumamoto Castle, which was partially destroyed by the earthquake in the last year, and wasn"t fully restored yet.
Musashi Sensei was very healthy, and I could realise about that in the Kaiseki Ryori tasting in the private lounge.
Among several issues, such as the beginning of the Niten Ichi Ryu in the United States and the 1st Pan Americano Meeting, I invited him to come (to Brazil) next year, for the most representative event of all times, in terms of the Samurai combat : The 1st Kenjutsu´s World Tournament, in October 2018.
Musashi Sensei showed a lot of interest, but due to his advanced age (434 years), ended up declining the invitation with these exciting words:
"The Katas and the Combat, although distinct from one another, they can"t be separated, and Kenjutsu Combat makes this fusion between them. Keep perpetuating our Samurai legacy!"
And so, before finishing up our meal, he took a sip of sake, and looked deep into my eyes and said:
"I will send my successor, Yoshimoti Kiyoshi Soke, to represent me in this hugely significant event.
Hope that my students present to the world the best Samurai fighting ever!"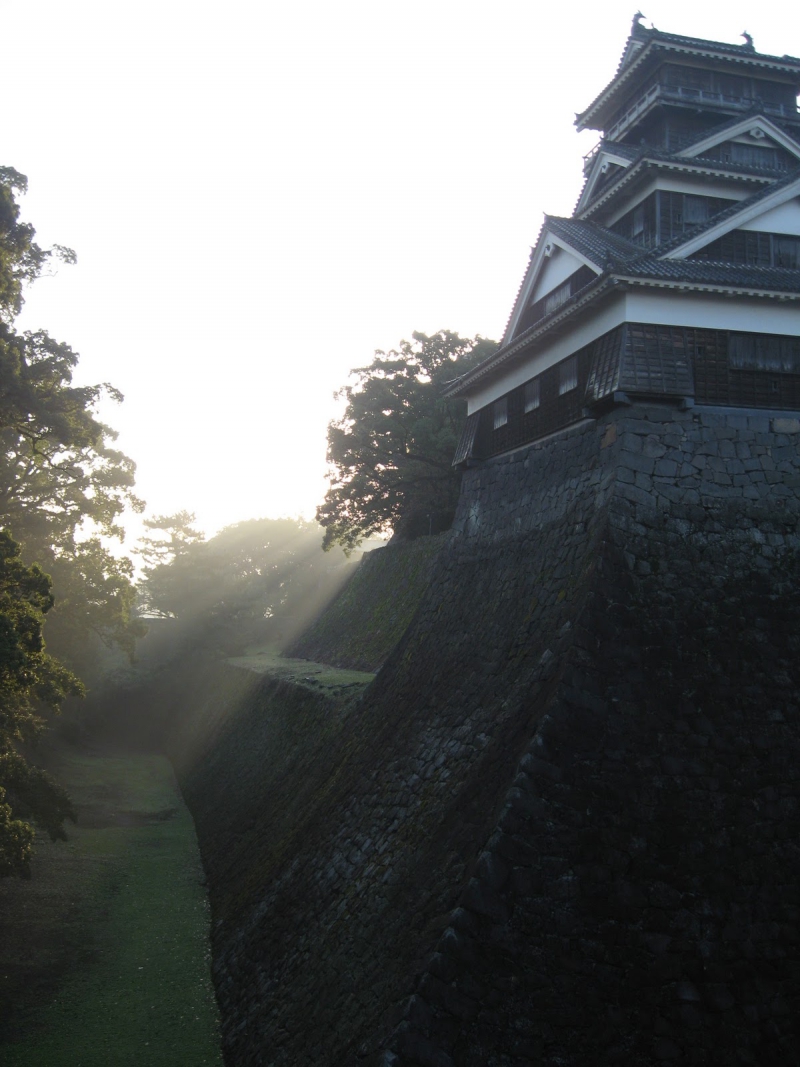 21-out-2017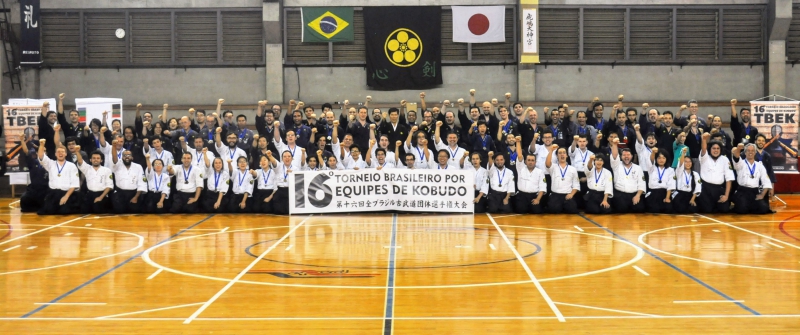 Results of the 16th Brazilian Team Tournament of Kobudô



KENJUTSU YOYONEN
5 to 10 years

1º - Gold
Menino - Santo André
Guilherme - Santos
Luciano - Ana Rosa

2º - Silver
Rebeck - Ana Rosa
Maximilien - Ana Rosa
Leonardo - Ana Rosa



---

KENJUTSU JUNIOR
11 to 13 years

1º - Gold
Tiago - Vial mariana
Raphaella - Santos
Kevin - Ana Rosa
Kazuo - Vila Mariana
Puig - Vila Mariana

2º - Silver
Takemitsu - Ana Rosa
Ichiro - Ana Rosa
Dimitri - Ana Rosa
Murilo - Campinas



---

KENJUTSU JUNIOR
14 to 17 years

1º - Gold
Torres - Campo Grande
Miki - Vila Mariana
Cunha - Vila Mariana

2º - Silver
Cindy - Vila Mariana
Theo - Santos
Freire - Campo Grande

3º - Bronze
Takeo - Santo André
Masako - Ana Rosa
Rodrigues - Santo André

3º - Bronze
Nishihara - Campinas
Isadora - Santos
Schuster - Campinas



---

KENJUTSU
No Bogu

1º - Gold
Alexi - Itaim

2º - Silver
Monica - Santo André


---


KENJUTSU WOMEN´S

1º - Gold
Toshi - Sumaré
Dias - São José dos Campos

2º - Silver
Cindy - Vila Mariana
Miki - Vila Mariana

3º - Bronze
Ana Lucia - Vila Leopoldina
Isadora - Santos
Masako - Ana Rosa

3º - Bronze
Mariana - Santos
Luciana - Vila Mariana
Kaory - Jundiaí



---

KENJUTSU SENIOR

1º - Gold
Batalha - Campinas
Lucio - Ana Rosa
Vermaas - Campinas
Neubauer - Itaim

2º - Silver
Impieri - Rio de Janeiro
Cesar - Guarulhos
Guimarães - São José dos Campos
Souza - Ribeirão
Carvalho - Santos



---

KENJUTSU MEN´S
0 - 5º Kyu

1º - Gold
Cuomo - Ana Rosa
Pereira - Sorocaba
Verzine - Ana Rosa
Kaiser - Ana Rosa
Uyeda - Ana Rosa
Esteves - Sumaré

2º - Silver
Nomura - Botucatu
Guimarães - São José dos Campos
Rodrigues - São José dos Campos
Luis - São José dos Campos
Fiusa - Sumaré

3º - Bronze
Dalla Pria - Tatuapé
Tadeu - Guarulhos
Seara - São Paulo
Neubauer - Itaim
Luz - Sumaré

3º - Bronze
Akio - Ana Rosa
Tengan - Ana Rosa
Rocha - Itaim
Assano - Vila Leopoldina
Ikuta - Itaim



KENJUTSU MEN´S
4º Kyu and above

1º - Gold
Silva - Itaim
Gilberto - Ana Rosa
Melo - Vila Mariana
Ruy - Tatuapé
Peter - Rio de janeiro

2º - Silver
Marques - Sumaré
Massao - Sumaré
Meloni - Sumaré
Ekman - Sumaré
Amargos - Sumaré

3º - Bronze
Danilo - Campinas
Holschuh - Campinas
Guilherme - Campinas
Batalha - Campinas
Fernando - Campinas

3º - Bronze
Estevão - Butantã
Donegá - Ribeirão
Guerreiro - Ribeirão
Neves - Santos
Siqueira - Santos



---

JOJUTSU
1º - Gold
Marques - Sumaré/Massao - Sumaré
Rocha - Itaim/Fiusa - Sumaré
Dalla Pria - Tatuapé/Freitas - Tucuruvi

2º - Silver
Bernardo - BH/Guilherme - Campinas
Suzuki - Ribeirão/Souza - Ribeirão
Emilio - Sorocaba/Albuquerque - Tatuapé

3º - Bronze
Danilo - Campinas/Holschuh - Campinas
Silva - Itaim/Batalha - Campinas
Peter - Rio de Janeiro/Ana Lucia - V. Leopoldina

3º - Bronze
Toshi - Sumaré/Paiva - Tucuruvi
Tengan - Ana Rosa/Gilberto - Vila Mariana
Todesco - Sorocaba/Arcieri - Santo André
Takeo - Santo André/Roger - Santo André



---

IAIJUTSU
0 - 5º Kyu

1º - Gold
Silva - Itaim
Nishihara - Campinas
Schuster - Campinas
Fernando - Campinas
Assano - Vila Leopoldina

2º - Silver
Neves - Santos
Hada - Santos
Theo - Santos
Hideaki - Ana Rosa
Levi - Santos

3º - Bronze
Akio - Ana Rosa
Torres - Campo Grande
Oshiro - Campo Grande
Ichiro - Ana Rosa
Luciana - Vila Mariana

3º - Bronze
Arcieri - Santo André
Trombetti - Ana Rosa
Dalla Pria - Tatuapé
Verzine - Ana Rosa



---

IAIJUTSU
4º Kyu and above

1º - Gold
Albuquerque - Tatuapé
Ana Lucia - Vila Leopoldina

2º - Silver
Gilberto - Ana Rosa
Ruy - Tatuapé
Takemitsu - Ana Rosa

3º - Bronze
Paiva - Tucuruvi
Holschuh - Campinas

3º - Bronze
Siqueira - Santos
Midori - Ana Rosa
Toshi - Sumaré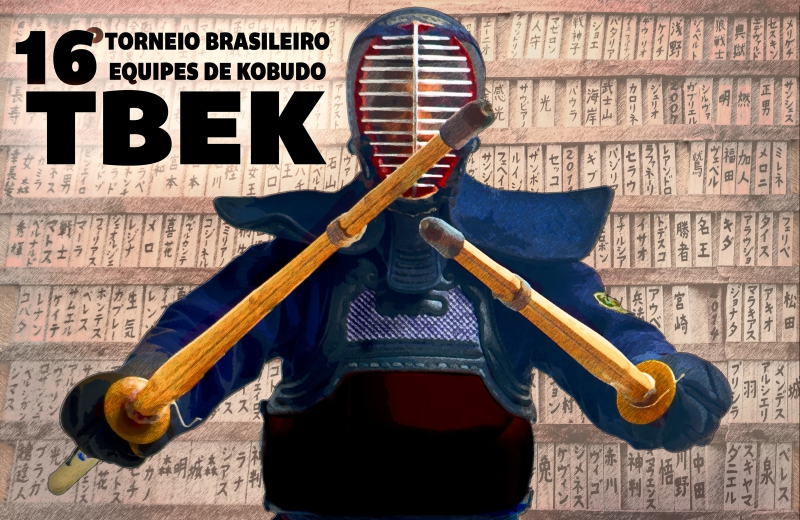 18-set-2017
The location offered silence and beauty so that the concentration and softness manifested in each strike
, each orientation from Senpais or Sensei. My body does not let me forget what this Gashuku was all about: spirit renewal!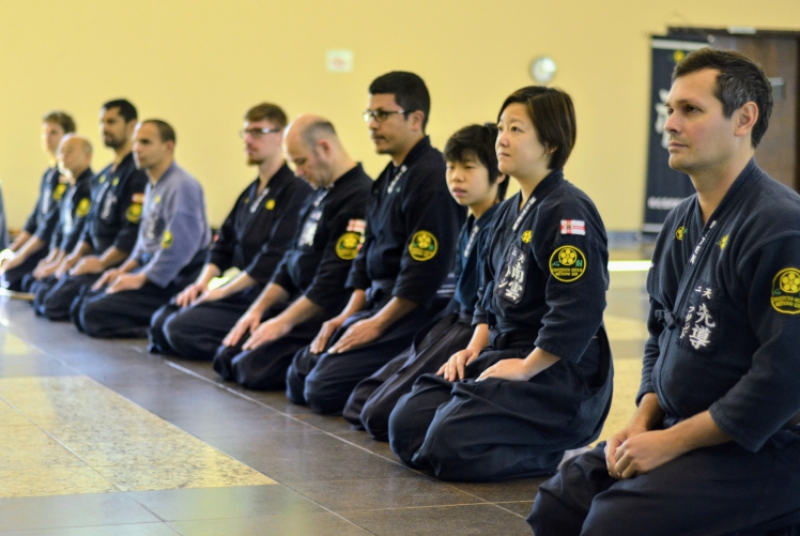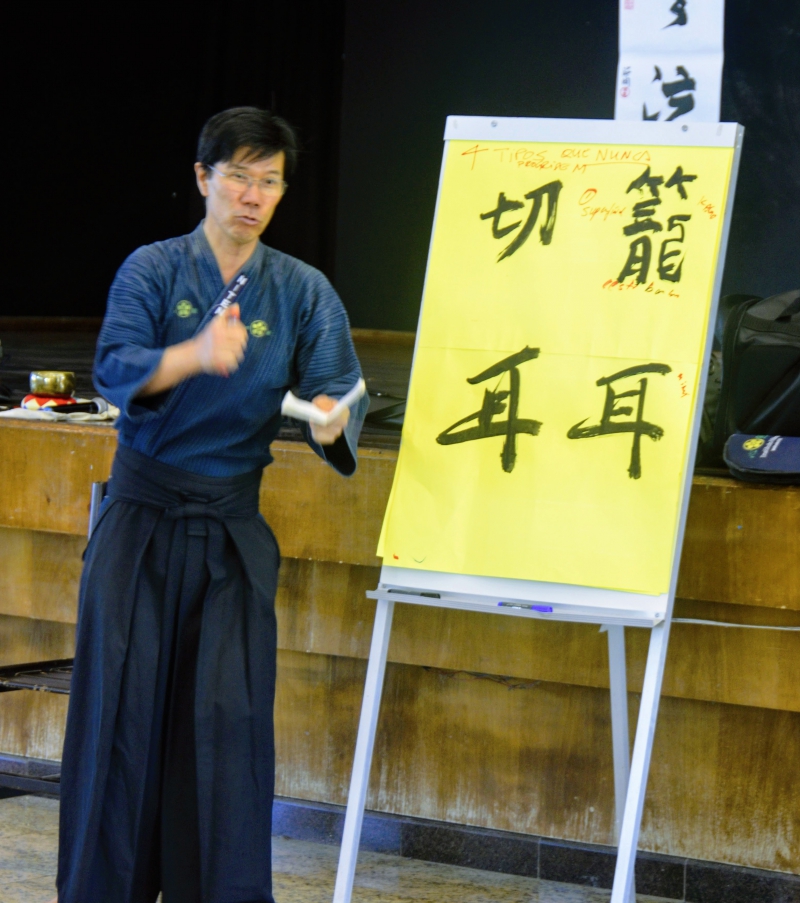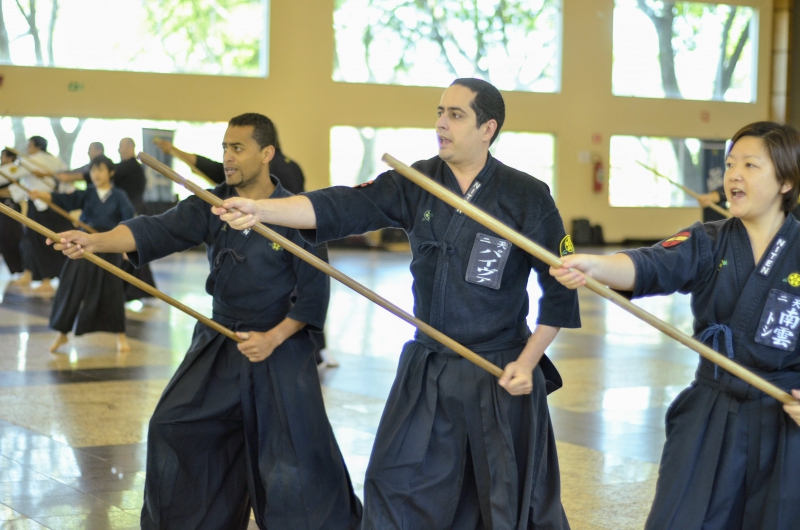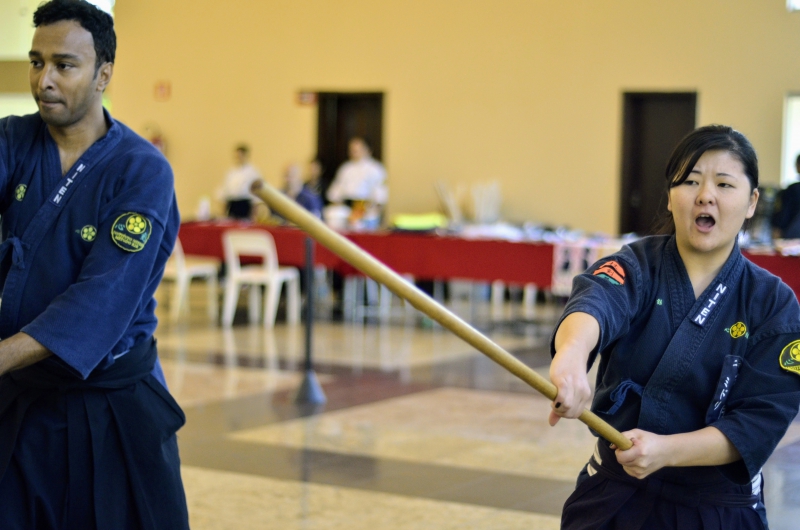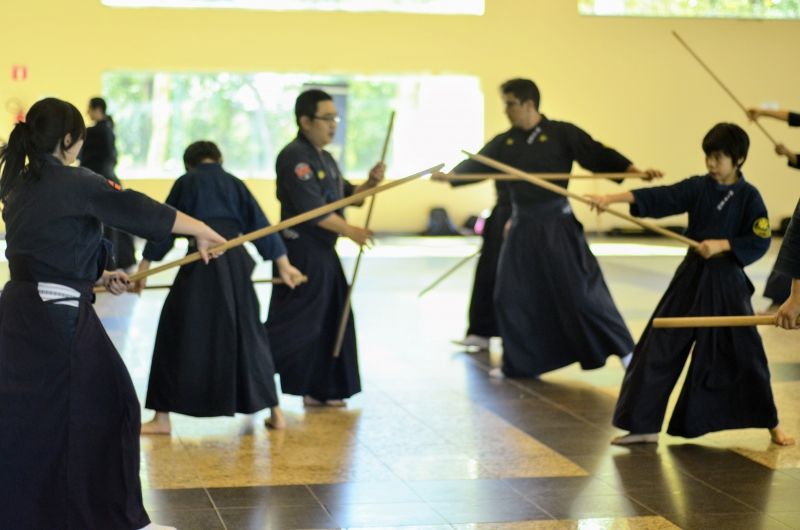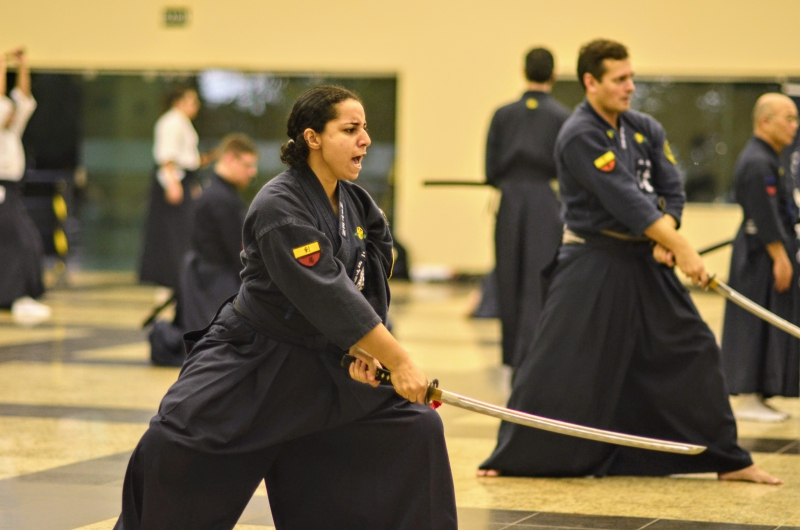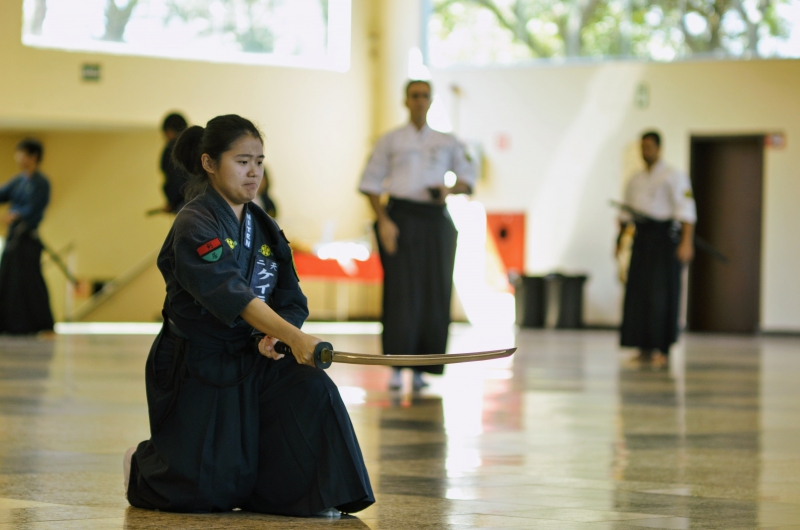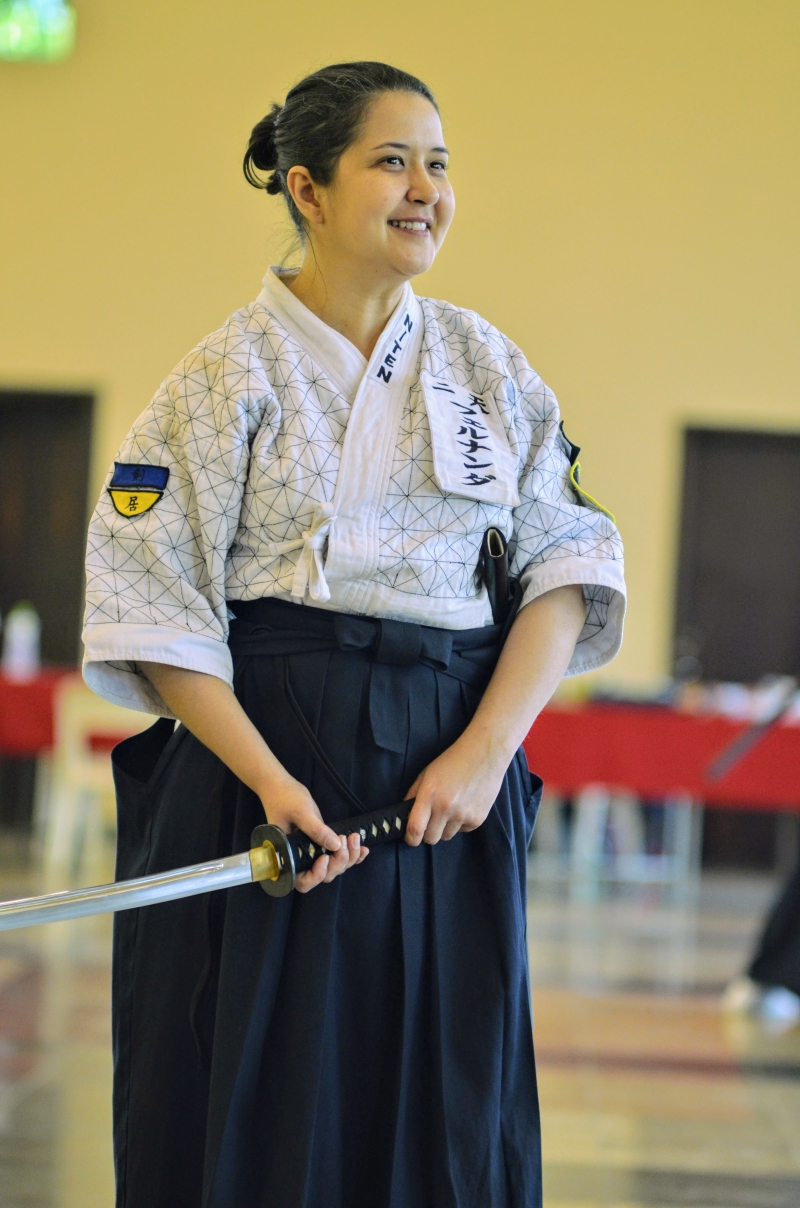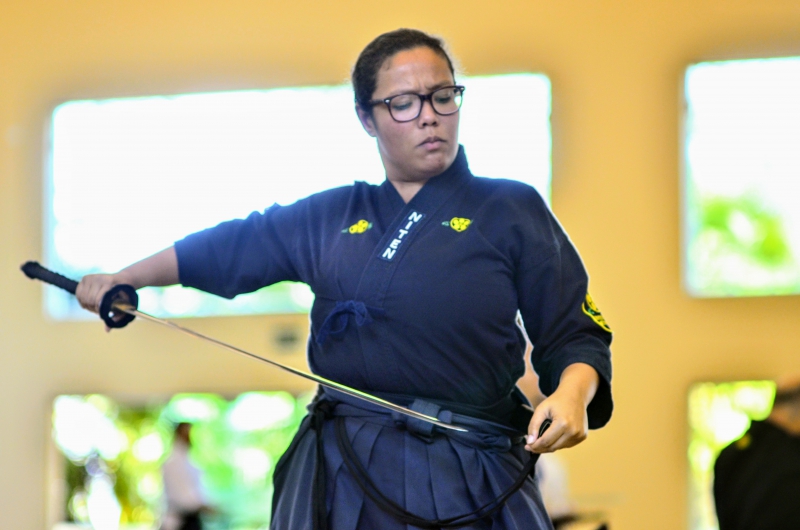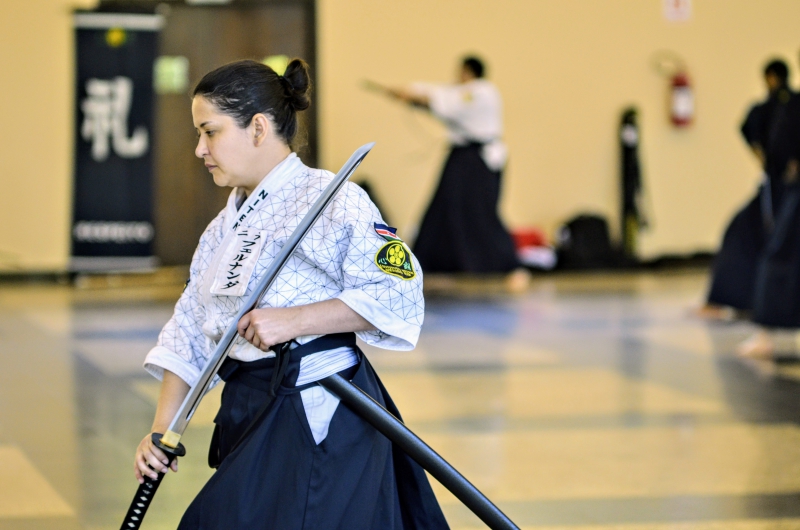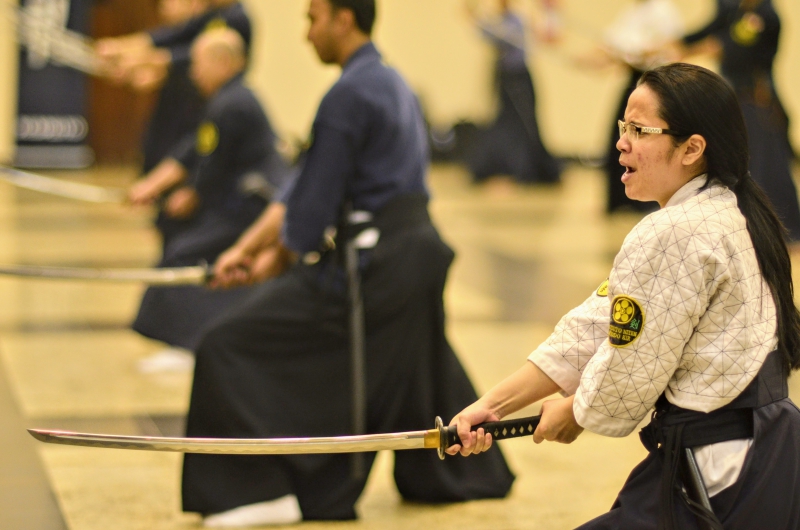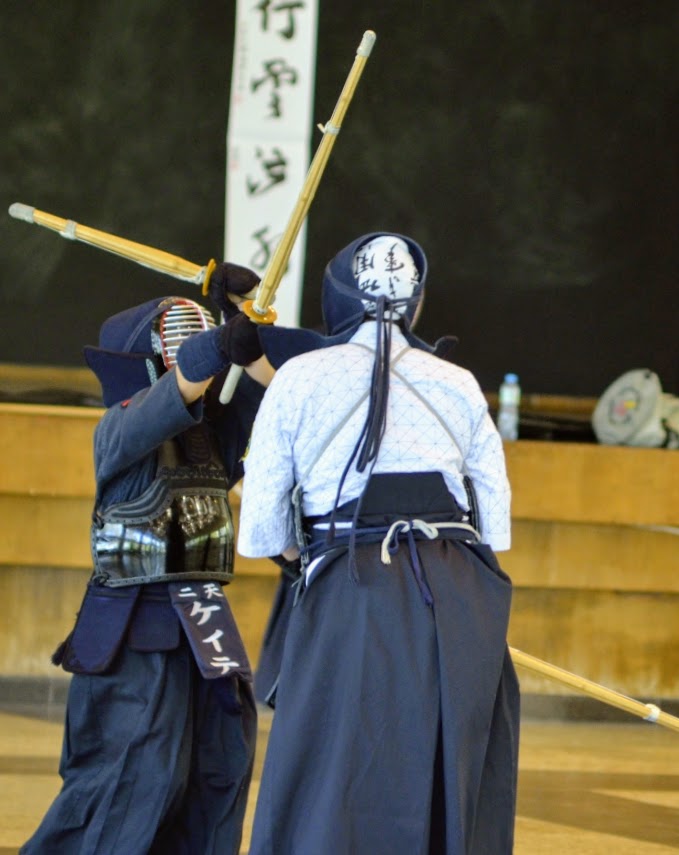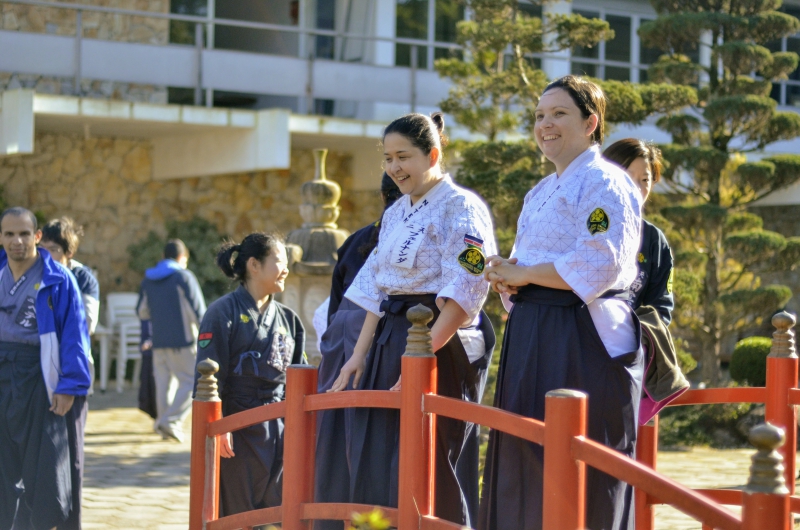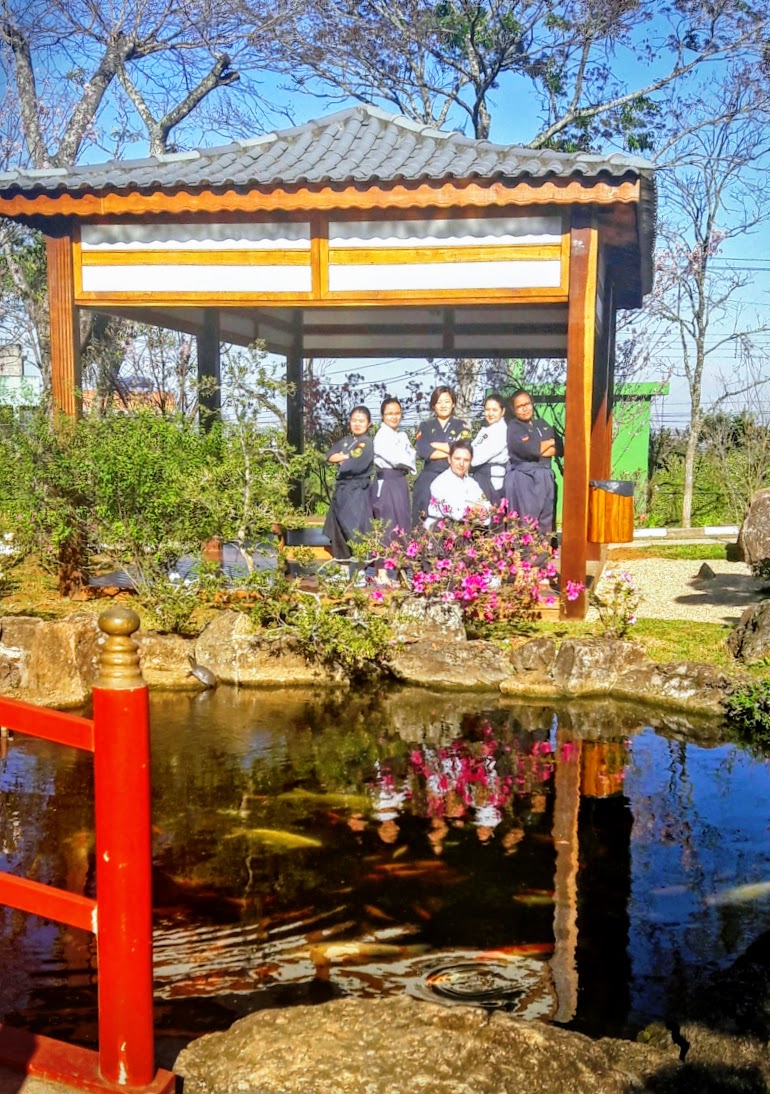 The Diamond Moments echo in my kokoro (heart, emotions) and at each moment I reflect if I"m not acting in one of the archetypes that Sensei mentioned. I felt that I have yet much to better myself, but the joy is even bigger when I realize that Sensei is generously showing us the Path to travel. With pain always comes a smile.
The girls, after hours of intensive training in the afternoon, even though very tired, still showed signs of happiness and satisfaction!"
Toshi Nagumo (Sumaré Dojo)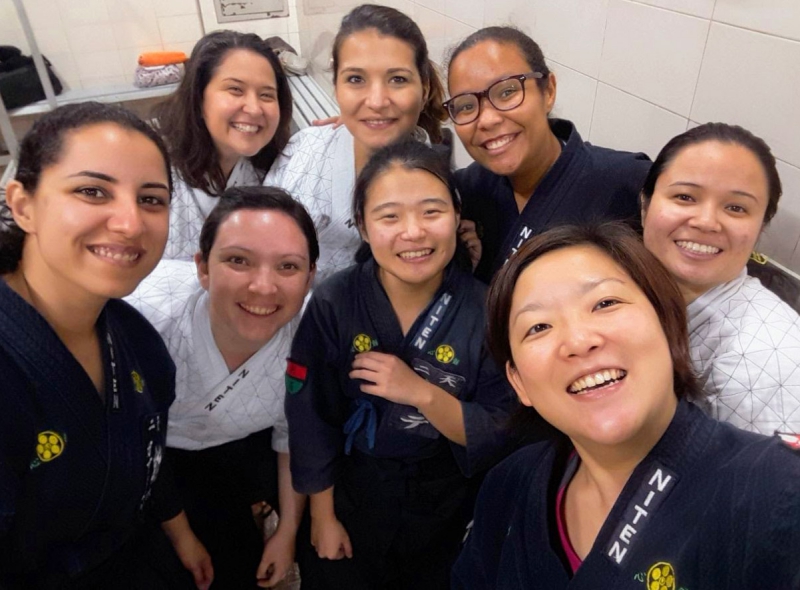 15-set-2017
"The Diamond Moments were a invaluable gift.
Yesterday"s night, I reviewed the teachings with my family and, having finished it, I heard a comment saying: "imagine those teachings in Sensei"s voice!"...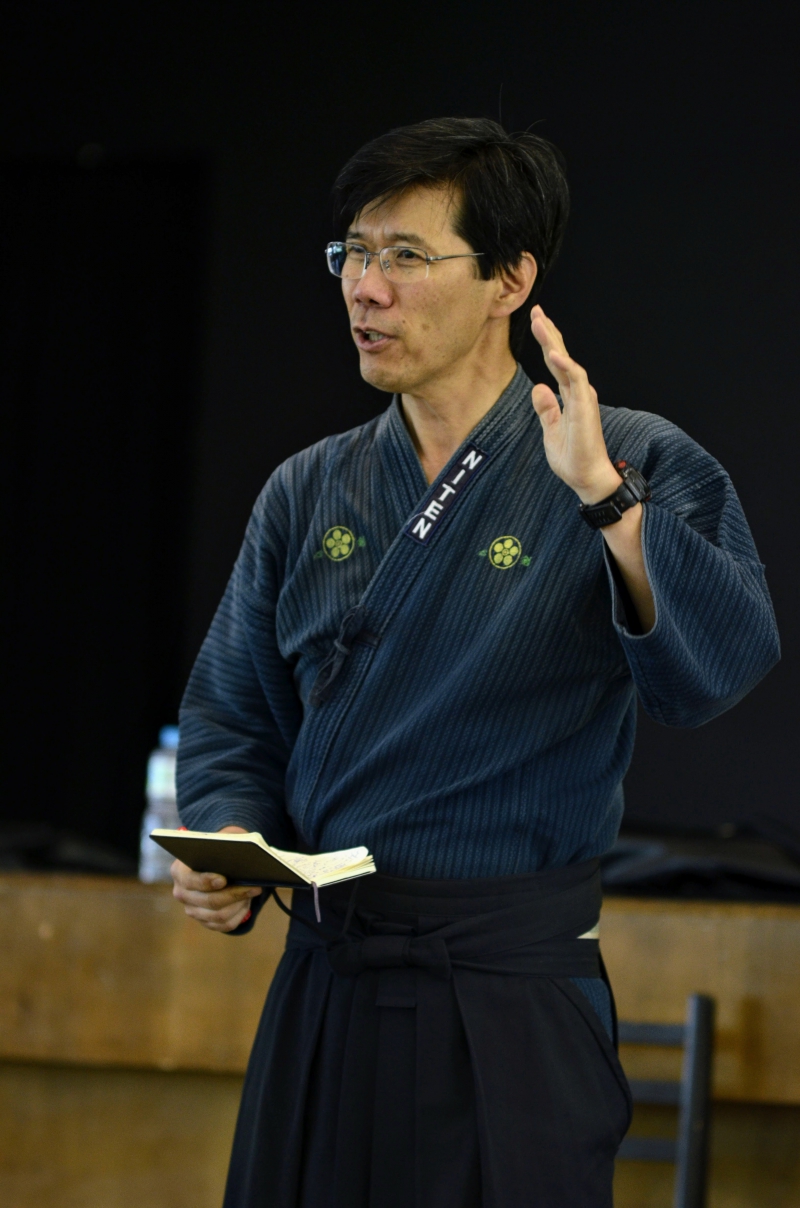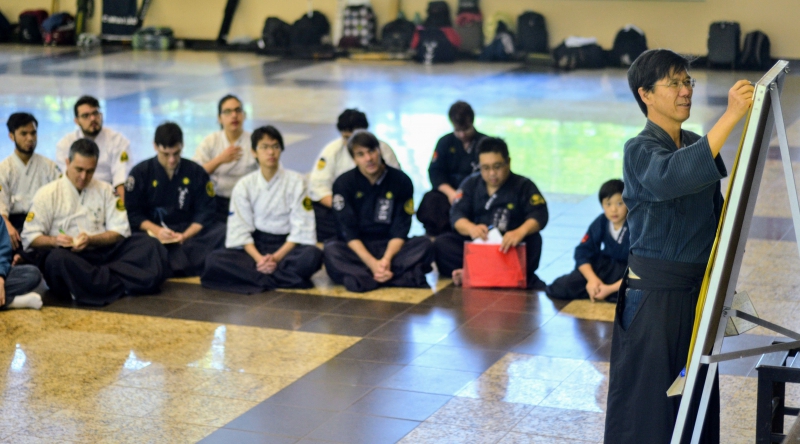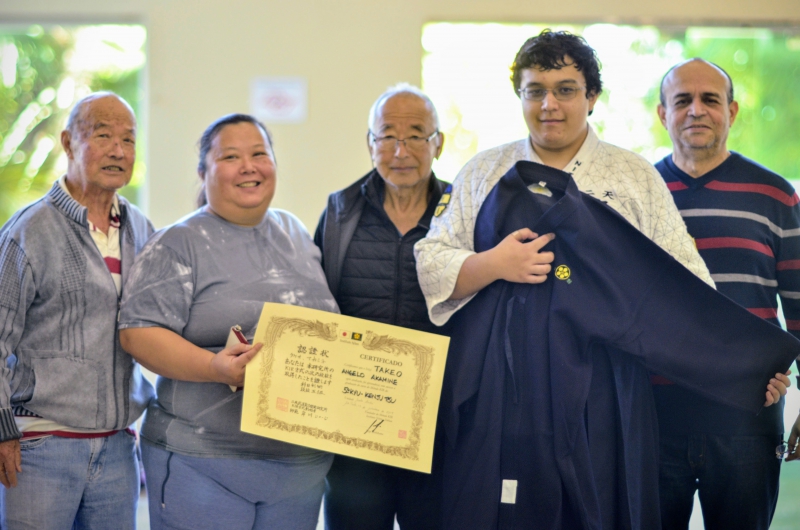 ... Though the diamonds shine less in our hands, they still transmit Sensei"s energy and wisdom, even after so many miles, so many hours of travel, it was still possible to bring home intact a part of its brilliance and energy."- Durval (Juiz de Fora Dojo, MG, Brazil)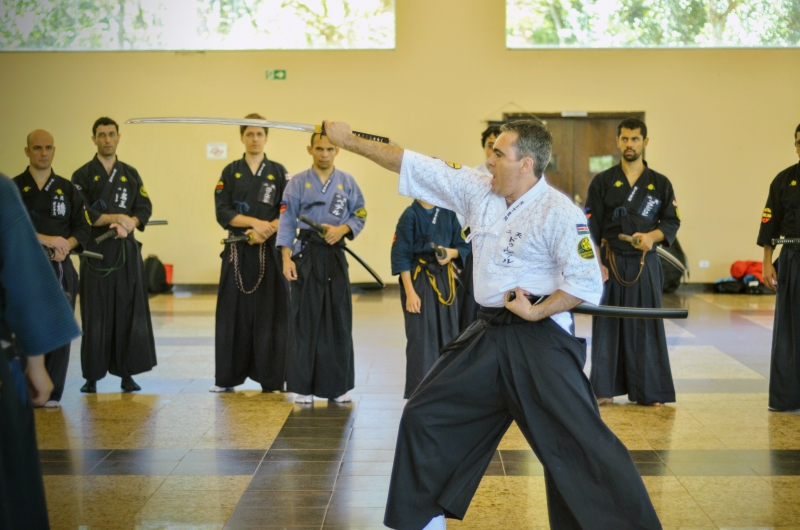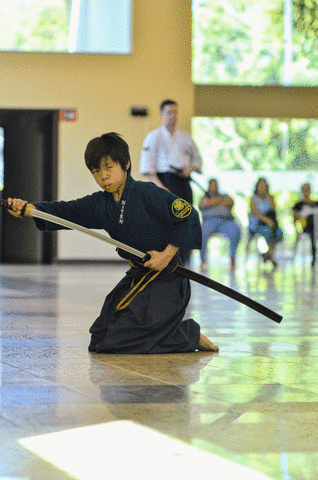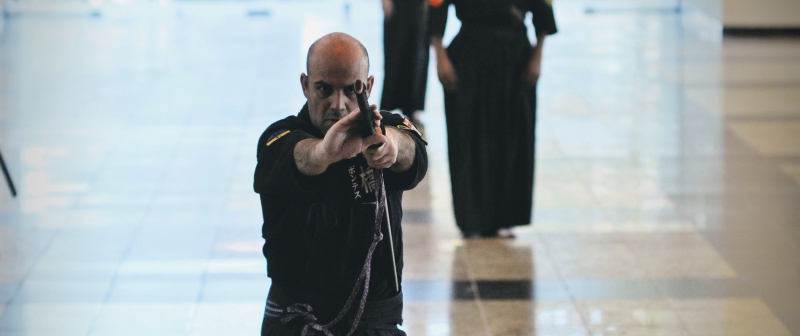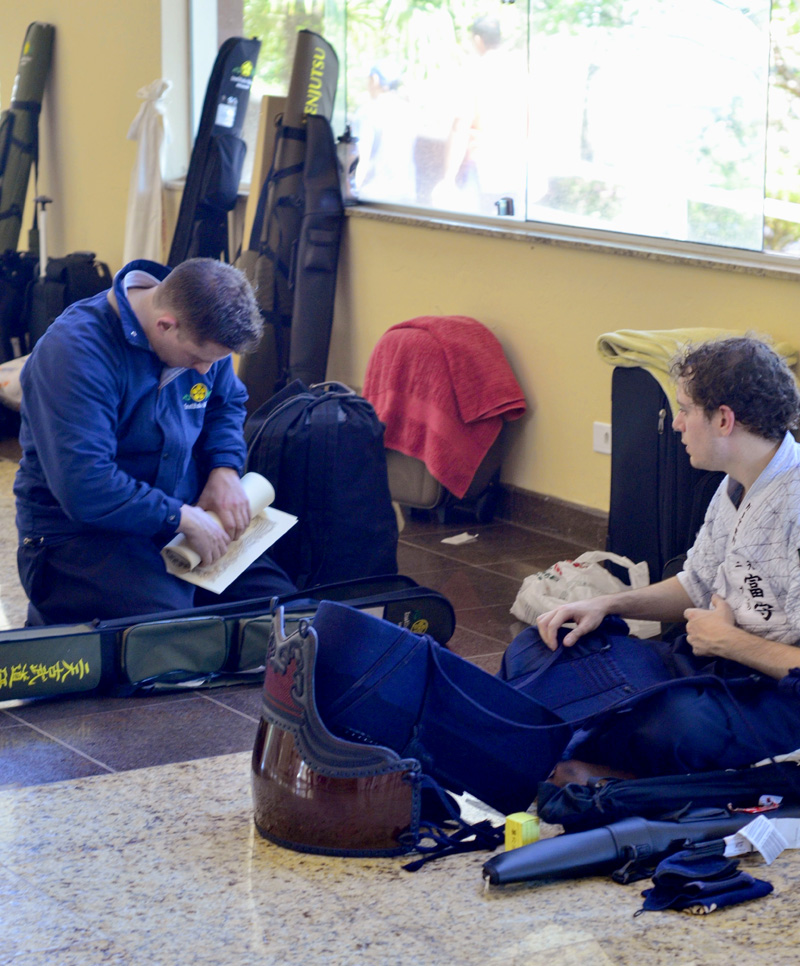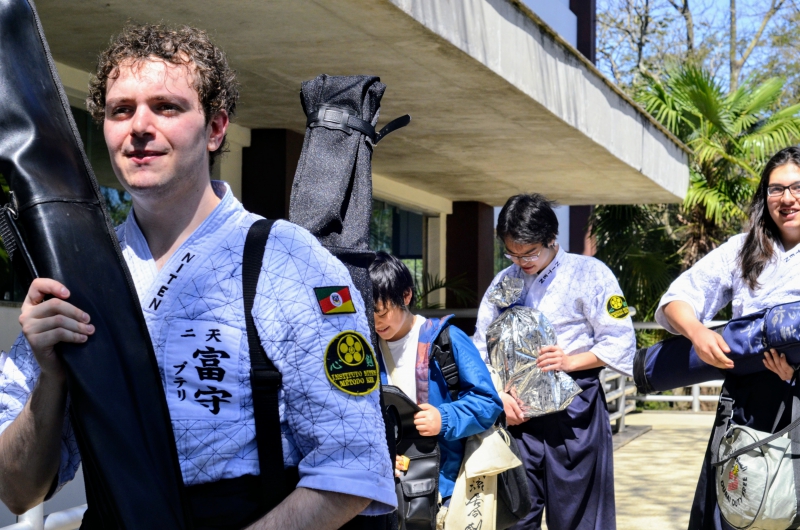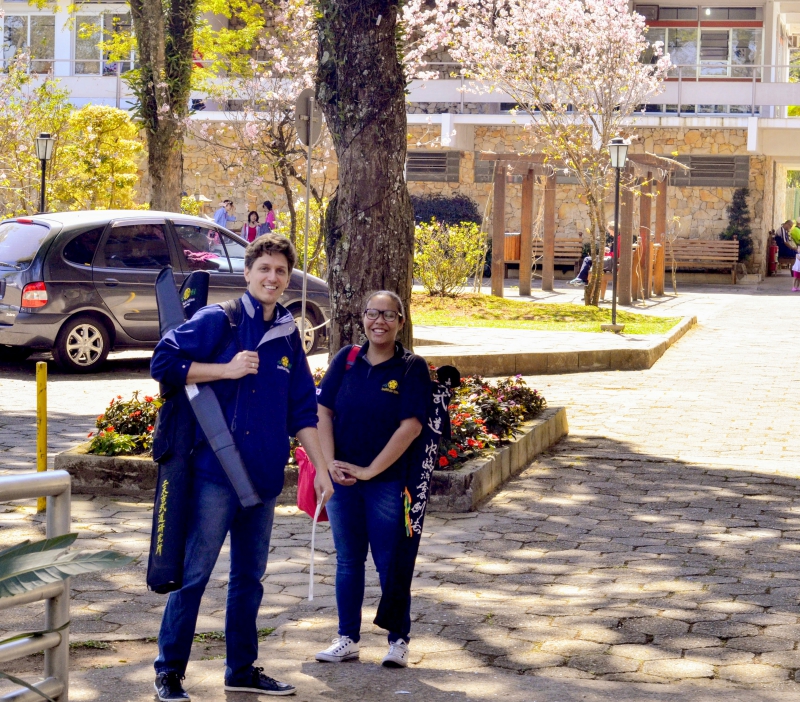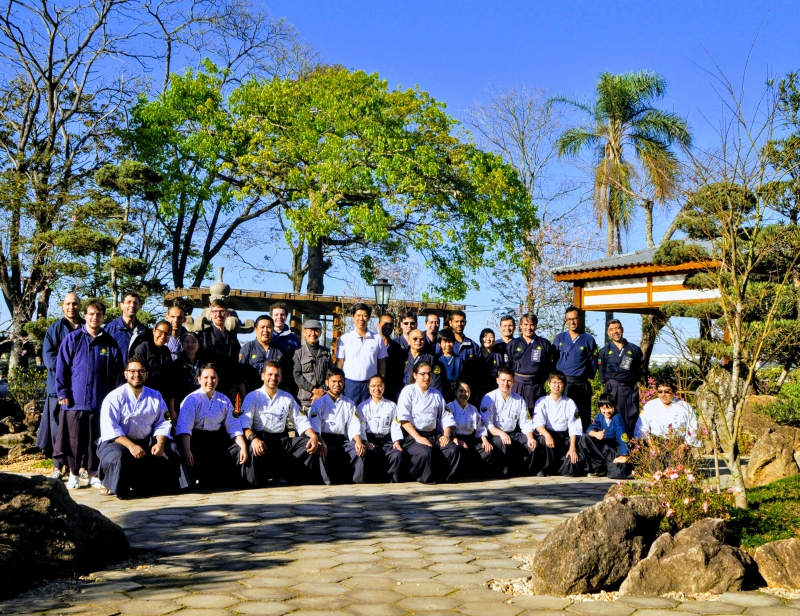 12-set-2017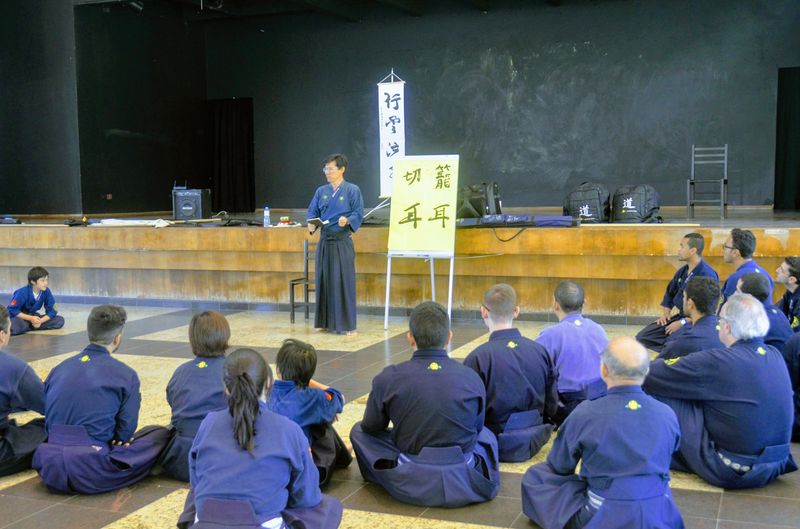 While I was listening (and taking notes!) on that Diamond Moments I recognized that several times I was caught fitting on those profiles of "people that don't reach progression" in the Way. I cannot say that was negative, because from that moment I could realize the issues I can – and shall – change in my life.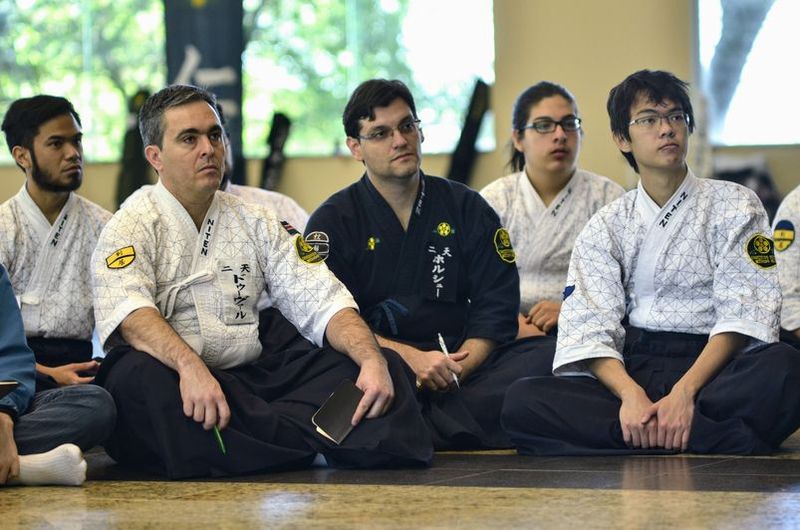 The point that really amazed me in this Gashuku (intensive practice) was the moment that I noticed how dedicated Sensei is with his disciples and students: no matter if he is teaching you the correct steps of a Iaijutsu Kata, or a correct position (kamae) during a Kenjutsu combat – it is, however, mainly showing us how the hidden details really matters and will really make the difference that you feel Sensei's dedication.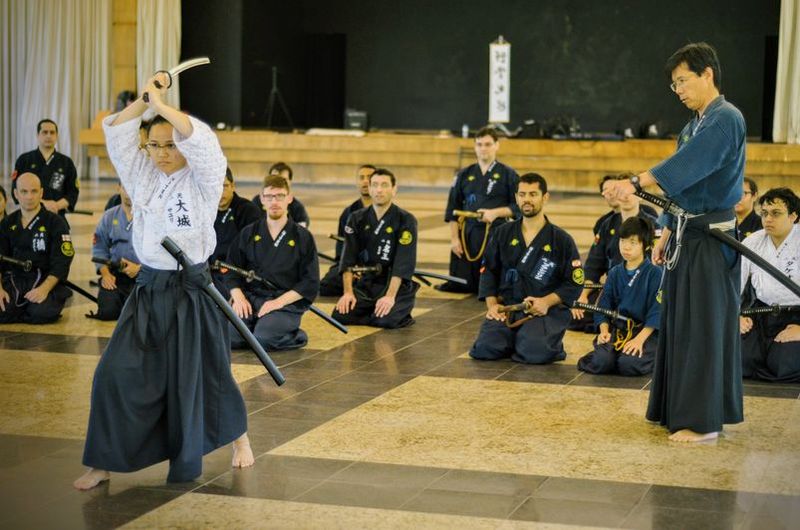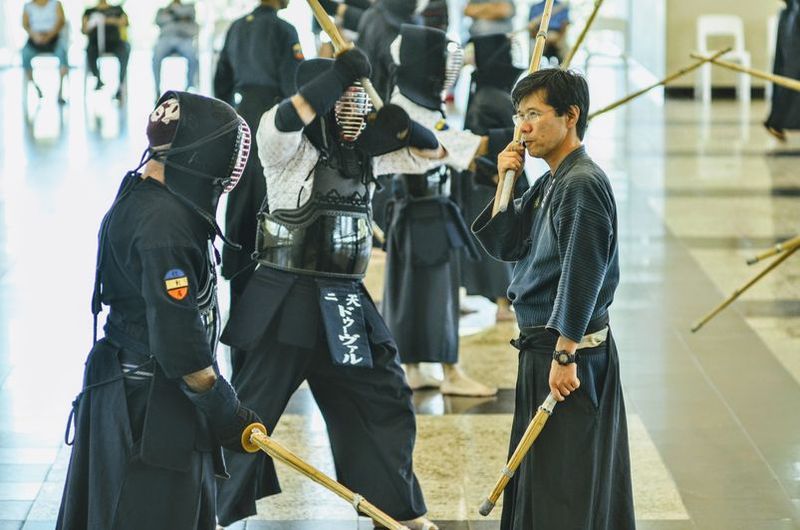 Today I notice that after hiking up the Mountain to live side by side with the Master that this is the path I will follow on the Way of the Sword in order to become a better person and citizen.
Fontes (Porto Alegre Dojo, RS, Brazil)