Coffee with Sensei
Thoughts and comments by Sensei Jorge Kishkawa


Tag todos Return to last Posts
23-mar-2017
Unforgettable.

This defines in a few words our encounter: the 1st Niten Institute Workshop in the United States of America.

It's been a pleasure to meet all of you, that with determination and will, have demonstrated your warrior "tamashii" (soul) that day.

Our Master, Musashi Sensei is certainly very pleased. Despite of being known for almost 2 centuries in America, this is the 1st time his teachings have been officially transmitted, in a pure and genuine way.

In this month, I went to Japan, put the light on an incense at his grave

The Niten Cultural Institute, on its turn, is honored. Bringing the art of being unbeatable thru the Kenjutsu Combat to the people who has fought so much to be respected is rewarding.

As for me, I'm proud. This has been the first time I taught a class in English. It's been a tough "shiai" (combat), but I believe I won.

Practice firmly, cause we are going to re-encounter, to hold other "Historical Moments".

Arigatou to all. - Sensei Jorge Kishikawa


"I would love to join to an academy soon."- Desiree Galindo

"It was a fantastic experience at the workshop. Looking forward for more.
Regards"- Miguel Pachon

"WONDERFUL EXPERIENCE" - Omar Plummer


"I enjoyed the workshop and Sensei Kishikawa's instruction, I am open to future practices should opportunities arise, and thank you for hosting me last week" - Eric Jacobs


"Looking forward to more classes and seminars"- Nabil Abbasi"


"I feel really grateful for been part of the Workshop and extremely honored of having meet sensei Kishikawa. I believe it was an amazing experience and that we are all going to try to incorporate the extensive knowledge the sensei shared, to help us keep our Kokoro Gamae strong.
I sincerely hope that this workshop/seminar had served as the key to open the entrance door for the Niten Cultural Institute to the USA.
Just good luck and thank you very much again for the opportunity. Please do not hesitate to contact me for updates on new events or assistance.
It will be an honor and a pleasure to help in any possible way.
Domo Arigato Gozaimashita!
Best Regards" - Alberto Roque



"It was an honor to have participated in the first workshop in the USA with Sensei Kishikawa. I have read the Book of Five Rings a few times in my life and being that this is the evolution of Miyamoto Musashi's Legacy to the world. I'm looking forward to the
time when we can train and cross swords with Sensei or his disciples. My fiance, Vanessa Velasquez, and I are looking forward to the next workshop or dojo opening here in Florida. Regards" - Juan M Borrero Rivera




"I am truly honored to have been able to participate in this workshop. I had a truly inspirational evening. I felt rejuvenated and motivated, something I had been struggling with recently. Thank you deeply to everyone for an incredible experience. I look forward to the next time. ^_^" - Vanessa Velasquez


"I am honored to have been able to practice Niten Ichi Ryu here in the USA and to be part of the first group in America.
Arigato Gozarimashita" - Leonardo Gonzalez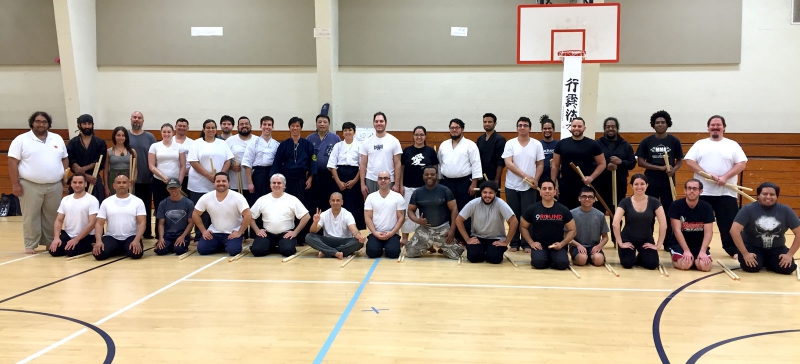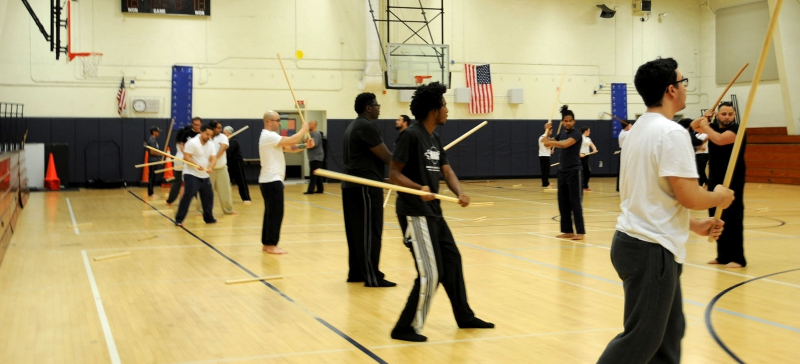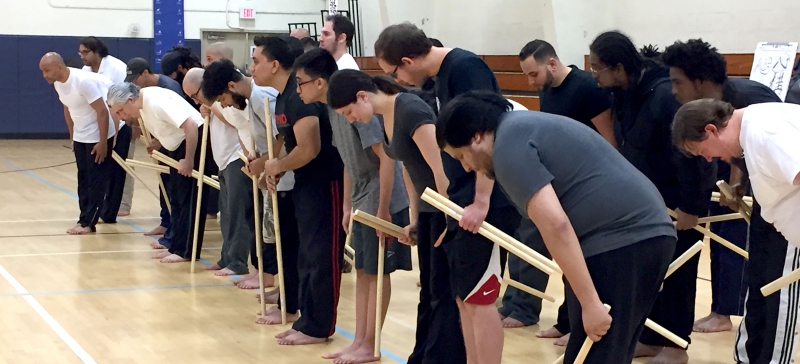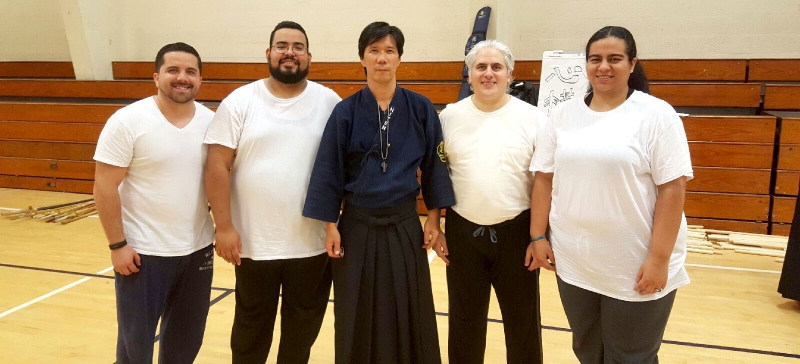 13-mar-2017

"To understand my excitement over Sensei's visit to the United States, some background is needed. My training in the way of the sword began during a study-abroad to Osaka, Japan, but even before that, I was interested in the two-sword techniques of Miyamoto Musashi. So, years later, when I discovered a branch of the Niten Institute in Buenos Aires, Argentina, I strove to become a diligent student of Kenjutsu Combat.
Over my year of training at the Abasto and Recoleta schools, my colleagues would often describe their experiences training with Sensei in Brazil. So when Sensei came to visit Buenos Aires for a gashuku (a special intense training session), I leapt at the opportunity to attend. The gashuku was everything I had hoped: informative, fun, and energizing, but its ending was bittersweet. I was planning my move back to the U.S. shortly after the gashuku and wondered if I would ever have the chance to train with Sensei again.

With this in mind, it is easy to understand my excitement to hear that Sensei was planning to hold a gashuku in Miami, the first of its kind in the U.S. This was the beginning for Niten in a new country, my country, and a chance to introduce others to a culture and mentality that I respect so much. I cannot thank Sensei enough for the opportunity to assist him in this effort and look forward to helping grow the Niten Institute in America. " Thomas Spanos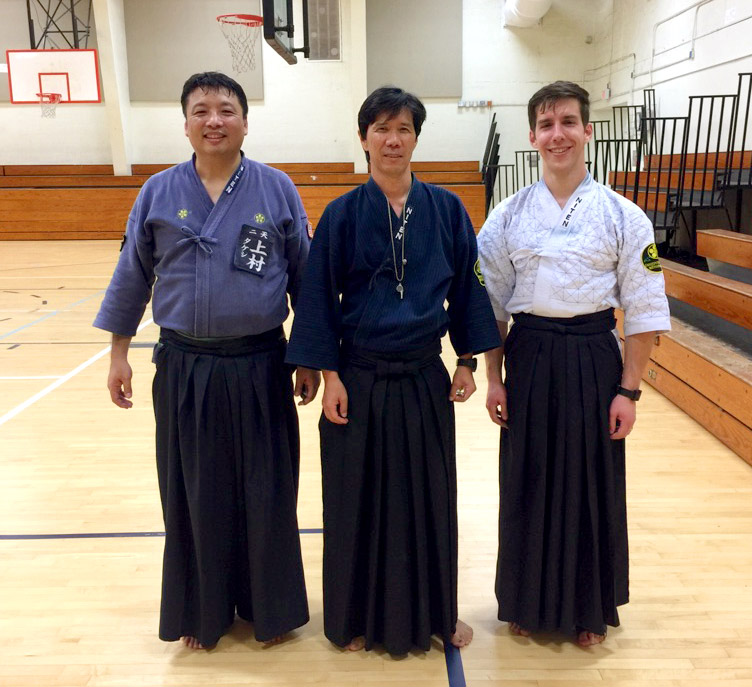 Takeshi Kamimura, Sensei and Thomas Spanos


08-mar-2017



Rodrigo Dangelo is the Niten Institute Coordinator in Curitiba city

and Director of the Inovation Office DDID.

In Sony's TV channel 'Shark Tank' show, his Office and Rodrigo himself received investiment proposals above the expected amount and also to have Robson Shiba, CEO of 'China in Box' and 'Gendai' food companies as a mentor and consultant.
24-jan-2017
- It was a tie! - yells the first one.

- No, you lost - says the second one.

- No way! If you doubt me, then let's duel again, but now with the Katana (sharpen steel samurai sword). I challenge you again! - the first one draws his sword furiously.


This scenario is depicted in the movie "The Seven Samurai", from Akira Kurosawa, and it shows a duel between two Samurai. It takes place around the year 1700 and the end of the scene is the hot-headed Samurai (the first one) falling, in slow motion, after being cut flawlessly, 6 inches through his left shoulder, hit by the technique called Toraburi*.

Fortunately all the Samurai techniques were preserved in kata* form, but none of them were recorded being tested in real combat.
The outcome of this is that you can't arrive in a conclusion.
There will allways be someone that will interpret "his technique" or "his Kamae*" as more correct or more efficient.

For many times, in all the schools that I studied, I saw disagreements between them and even between teachers of the same school regarding a specific kata.


"It is not like that because in that way you wouldn't cut" or "If you do it his way, you will be at a disadvantage before your opponent".

Some say: "My way is better".


To know who is right, obviously it is not necessary to get a metal sword and start killing each other.
Nowadays, we can test the techniques with protection equipment and bamboo swords and then arrive at a conclusion. This is the Kenjutsu Combat.

The path should be clear: Less Speculation, More Convincing.
*Kamae= Posture or stance in preparation for a strike, usually named after elements of nature or animals.
*kata= pre-defined movements, simulating a duel
*Toraburi= Miyamoto Musashi's Niten Ichi School Kata from the Tachi Seiho (Long sword techniques).
It is known as the "Tiger's Onslaught" and it is part of the set of kata that we learn here in the Niten Institute.





剣術対戦 - Kenjutsu Combat


"By applying the old schools techniques in Kenjutsu Combat takes us closer to the understanding of the Go Rin no Sho (The Book of Five Rings - from Miyamoto Musashi), the Sun Tzu's Art of War and other old strategy books.

To relive these techniques you need to take them from the kata to the combat reality.
That way you will feel what are the secrets behind the Fire Kamae, the Sky Kamae, the Earth Kamae.
You will realize that against the Moon, there must be the Sun. Or that the Tree is as strong as the Metal.

In the end, to practice the Kenjutsu Combat is to dive deep in the old texts and give life to it all.""Give life to the past", page 138 of the Shin Hagakure (In Portuguese)
22-jan-2017
Musashi Sensei (Miyamoto Musashi), wrote in his book "Go Rin no Sho" (Book of Five Rings), that you should avoid holding the sword with two hands.
One hand must be empty, free.
As well as they have to hold, each one, a sword. (when fighting with two swords at once)

This is Niten. This is Kenjutsu Combat.
When we practice to exhaustion, we can glimpse the beginning of the path to invincibility.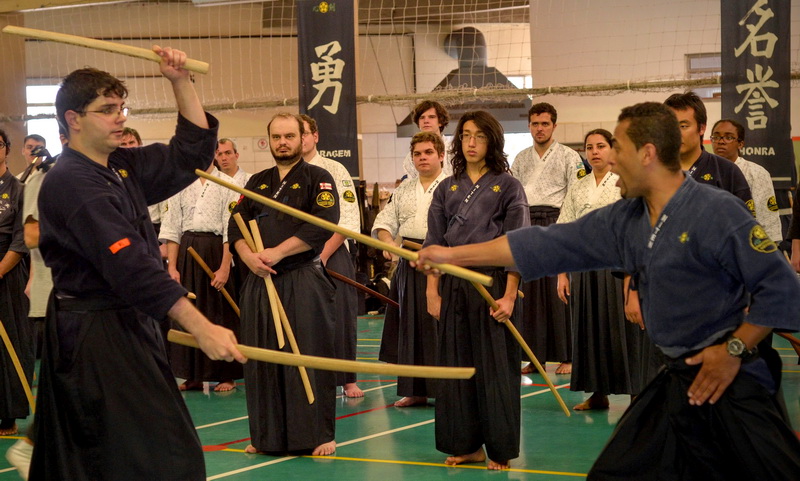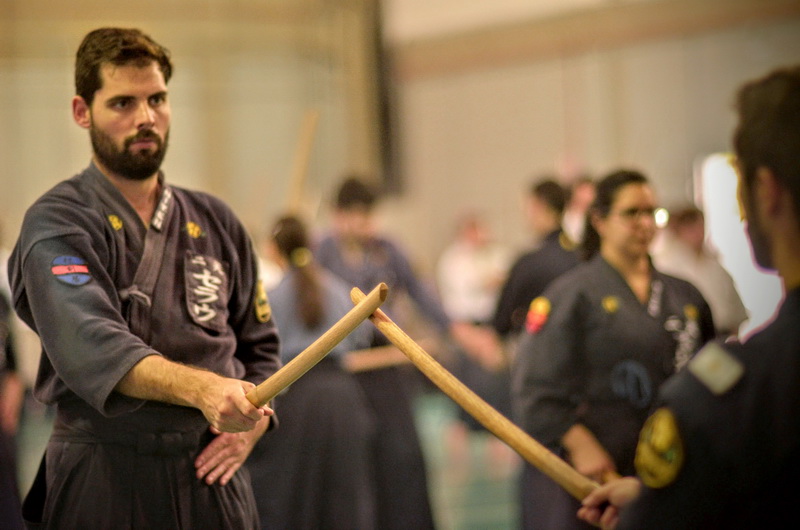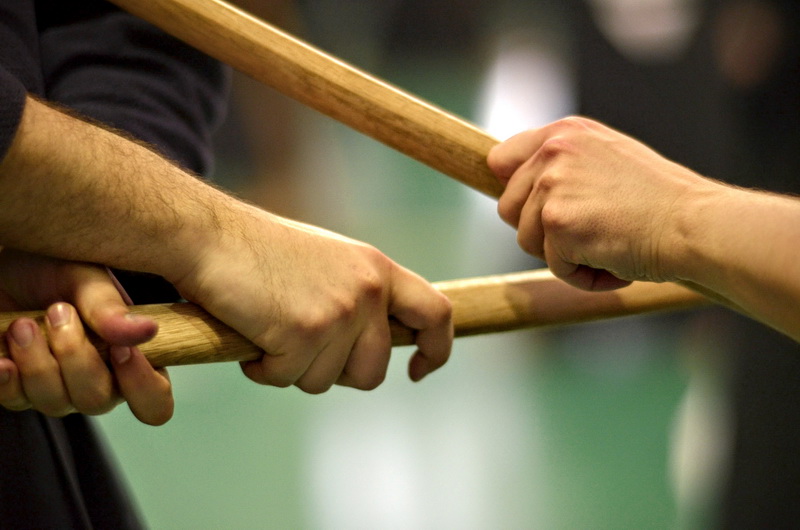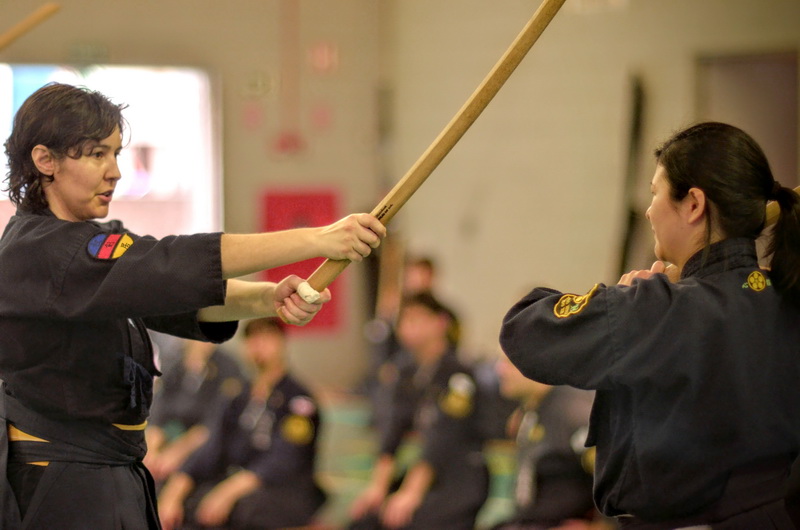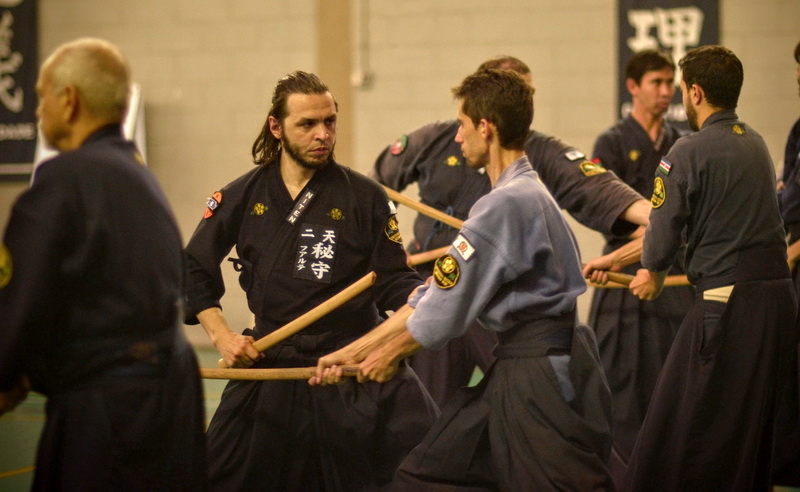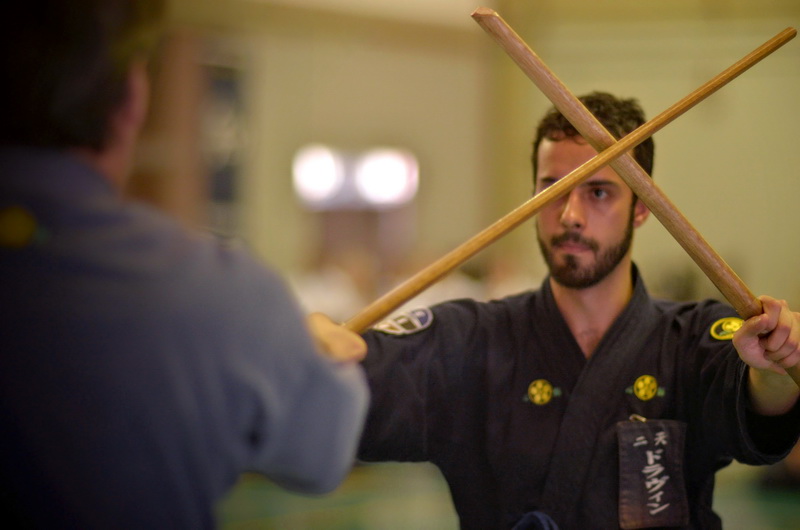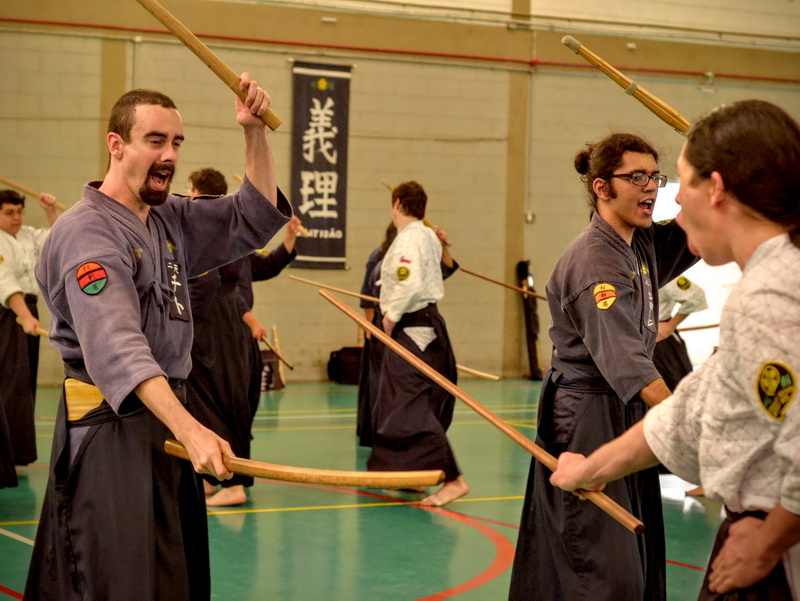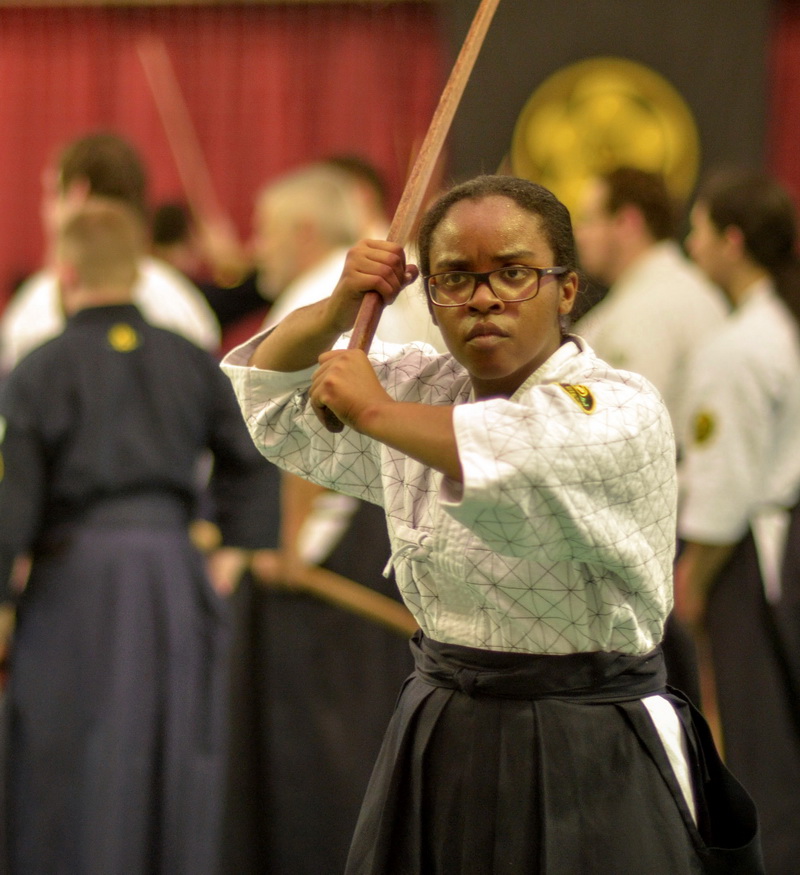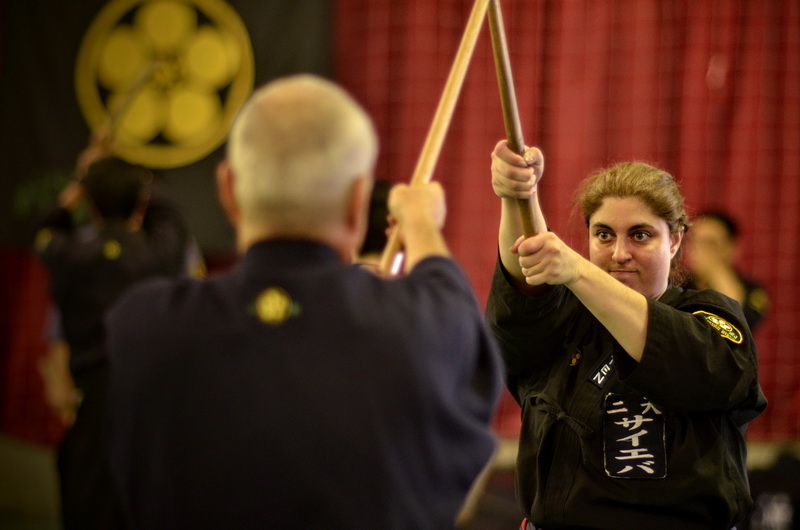 19-jan-2017
Have you ever seen live or a video of a Bullet Train (Shinkansen) in Japan?

Sensei e Sanches no Japão

When you see it, too late, its gone.

Just like a bullet.

Just like in Kenjutsu Combat.




16-jan-2017

"The Japanese Bridge over the Water Lilies Pond in Giverny" is a painting by Monet that, at the time of its completion, it was highly criticized.
They said that the old artist was suffering from a disease that compromised his eyesight, and therefore they did not considered the meaning of his choice by not drawing "more realistically" to the real image.
At the beginning, even a great artist is misunderstood. It part of the learning process and maturation of the artistic eye.
In time, the more observent ones realized his intentions, and managed to see that this work of art, not so much as a simple image, has a special connection with something greater: the Truth.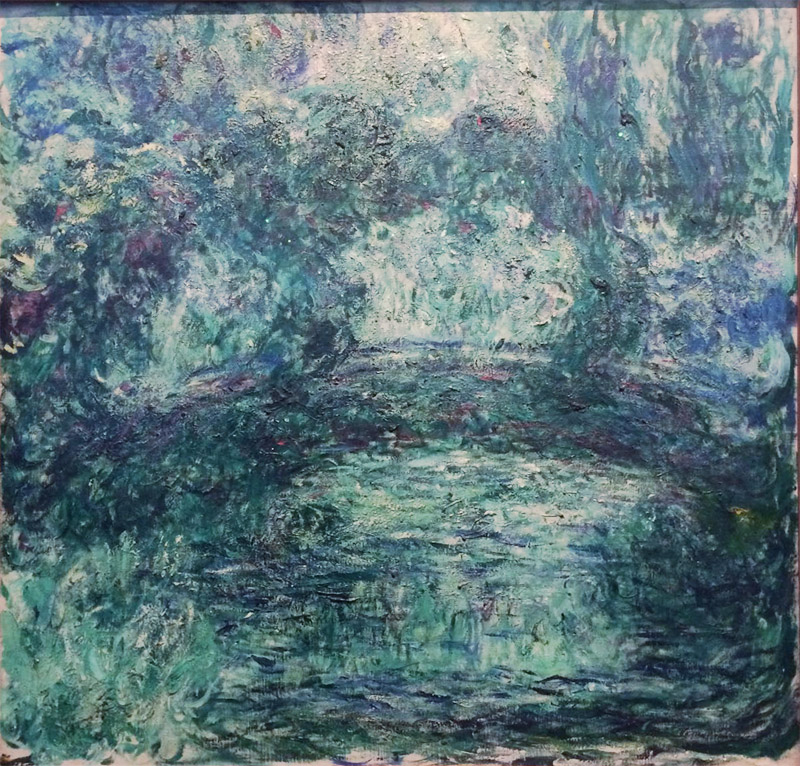 13-jan-2017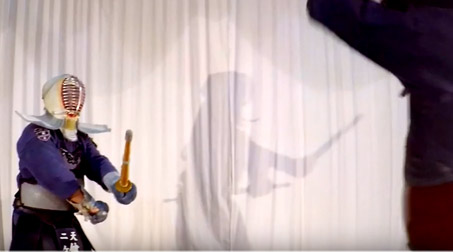 Imagine yourself fighting the Samurai at your left:
Now, considering this situation, decide where would you choose to attack.

And tell me if you won or if you were defeated:




This is Kenjutsu Combat!
11-jan-2017
The Samurai used to say that real kids are the ones that fight, jump and run. They were happy.

In those days that was possible, but nowadays, with so much they are expected to do and pressure from all sides, truly happy children are rare.

Rare, but they exist.