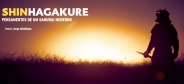 SHINHAGAKURE
SENSEI JORGE KISHIKAWA`s book was republished this year in 2 volumes. In the book, more than 300 sayings teaching us the basics of the Samurai philosophy and the KIR Method that guides the Niten Institute classes and the everyday relation between the students.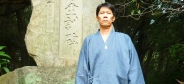 HAGAKURE
Often used as reference im the Niten Institute, the Hagakure can be translated as "hidden leaves" ou "hidden by the leaves" – and is a compilation of samurai philosophy teachinga published in Setember 10th 1716, in the Nabeshima Clan House, the same region from where Sensei Jorge Kishikawa`s family and ancestors comes from.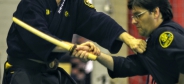 GOSHINJUTSU
The Kobudo arts in Niten, originated in the Samurais, offer self defence techniques that were helpful and often used in the Japan feudal battlefields.
The GoshinJutsu can be practiced in every class.